Shopping Cart
Your Cart is Empty
There was an error with PayPal
Click here to try again
Thank you for your business!
You should be receiving an order confirmation from Paypal shortly.
Exit Shopping Cart
Wooah, what happened there.... I was gone for a bit too long. Busy summer and [insert random excuse] stuff.
So, the caravans are all closed up for the year, but that doesn't mean that Tom and I are also in hibernation. There are THINGS happening!
As part of our planning permission for the site, we are allowed to build seven 'follies' i.e. things that may or may not have a purpose and may or may not be completely ridiculous.
We have recently got approval for three follies, these are "Maggie's Kitchen", a cob house and a fire pit.  The first of these to be built is "Maggies Kitchen" which will be an outdoor eating area in the style of an old ruined irish cottage, incorporating a barbeque and a pizza oven and a traditional fireplace. It makes PERFECT SENSE in our heads, I promise you. 
Why is it called 'Maggie's Kitchen'? The last of Tom's relatives to live here were his Aunt Maggie and Uncle Jim. By all accounts Maggie was a lovely lady and a lot of our neighbours who would have been kids back in the 70's and 80's have fond memories of her baking and her 'smokey lemonade', a homemade lemonade that had a distinctive smokey flavour due to the turf fires in the kitchen.  So when we came up with the idea for an outdoor kitchen area with an old Irish theme, we had to make sure that Aunt Maggie was acknowledged in some way. 
In the photo below, Aunt Maggie is the lady on the right. Do you notice anything weird about this picture? Oh yes, there's a small child levitating in the background.... something to do with the smokey lemonade, no doubt. 
Maggie and friend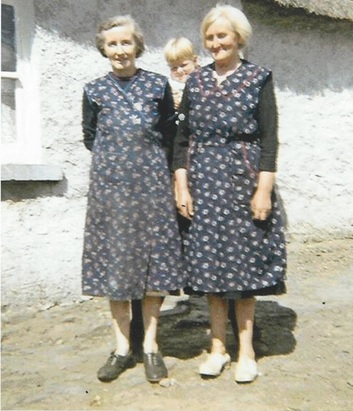 Tom has been hard at work digging foundations and has begun to build the walls of the structure.  We're hoping that the main structure will be finished in the next few weeks and the whole area will be ready for when the spring and the warm weather are back with us. 
Foundations of Maggie's Kitchen poured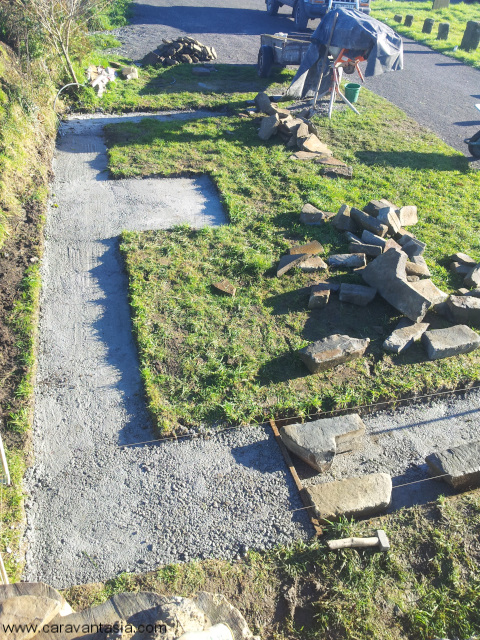 Main walls being built (Green house in the background)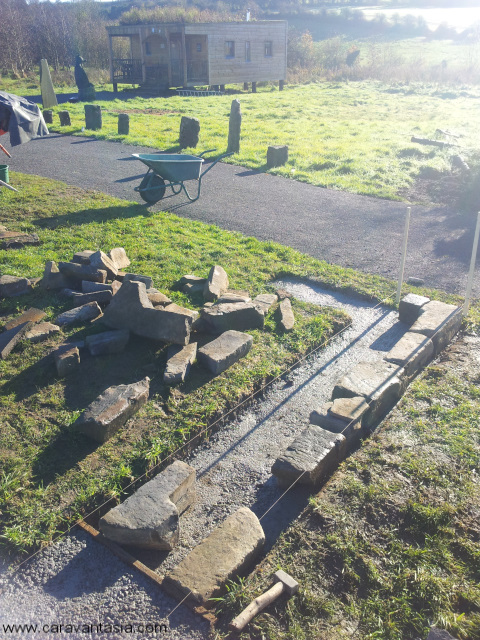 Honey dog is not at all impressed with this flurry of activity. There is much less playing and stick-throwing going on, and much more sleeping on the agenda.....
"Dog in the fog"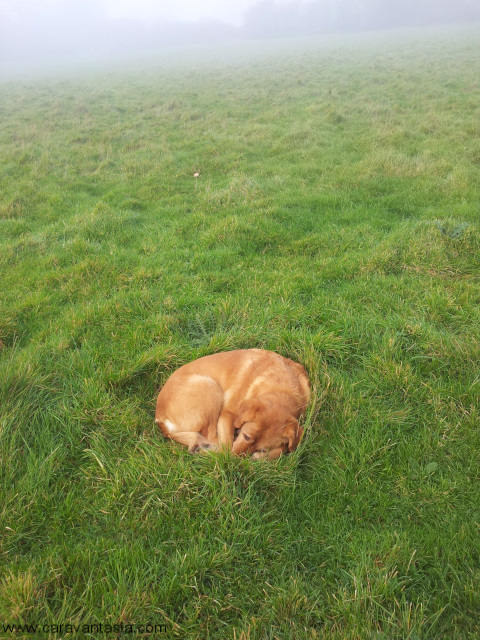 Categories: Progress
/