Shopping Cart
Your Cart is Empty
There was an error with PayPal
Click here to try again
Thank you for your business!
You should be receiving an order confirmation from Paypal shortly.
Exit Shopping Cart
Phew, what a week it's been. We've had a small army of people here for the last week, helping us with the final push to get the site ready for the opening event, OUT OF THE WOODS, a day of tree-related events hosted on behalf of the Tipperary Green Business Network. 
It's been hard work... there have been long days, late nights and a few unexpected things to keep us on our toes (such as escapee cows and magotty sheep) but there's also been a huge amount of craic. Loads of the stuff.  
So, at around 10:30 on Saturday 19th July, Caravantasia was declared officially open, with the ding a ling of a bell...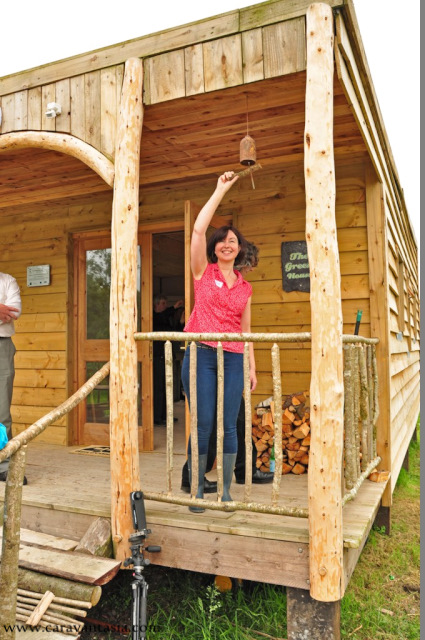 Wesley Seery started the day off with a presentation and demonstration about how to make charcoal. He also bought charcoal along for the barbeque. There was lots of fire and smoke (mainly smoke) and lets face it, who doesn't love a bit fire.
The process takes several hours, but we checked the barrel this morning and it was full of perfect charcoal. There are very few people in Ireland making charcoal from native Irish wood (most of it comes from China, Argentina etc), so it was great to be having locally produced food cooked on locally produced charcoal. Wes is from Mayo, which isn't exactly local, but we'll let that one pass ;-)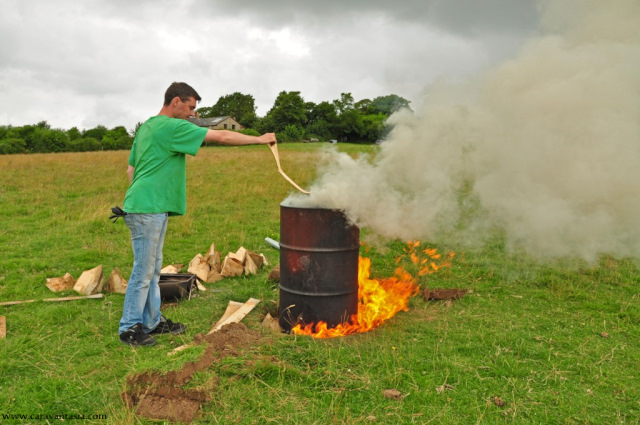 Richie Clarke (www.clarkewoodcarving.com) was next up, he'd arrived a couple of days prior to the event to make a start on a sculpture that he would finish on the day. He gave a talk on how he approaches carving, both with the chainsaw and hand tools and shared how he gets his inspiration for his work. The carving of a fox was finished by the end of the day and the result was pretty impressive. The sculpture will be going to a private house near Clonmel.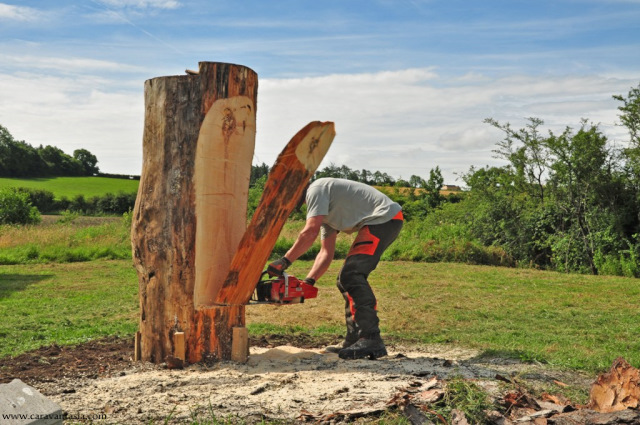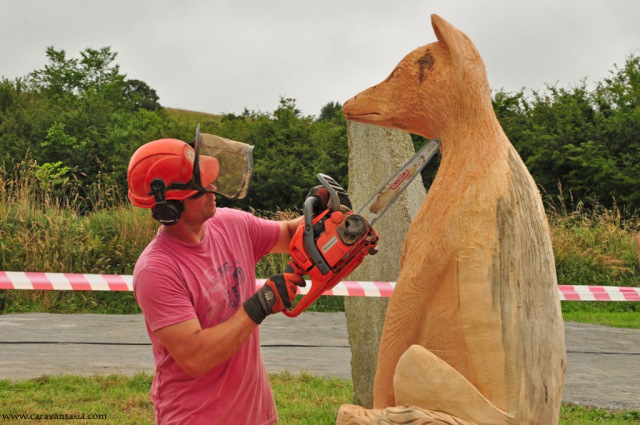 Honey the dog checked out the Health & Safety arrangements for the day.... yes, beside the guy with the chainsaw looks like the perfect place to sleep. Of course.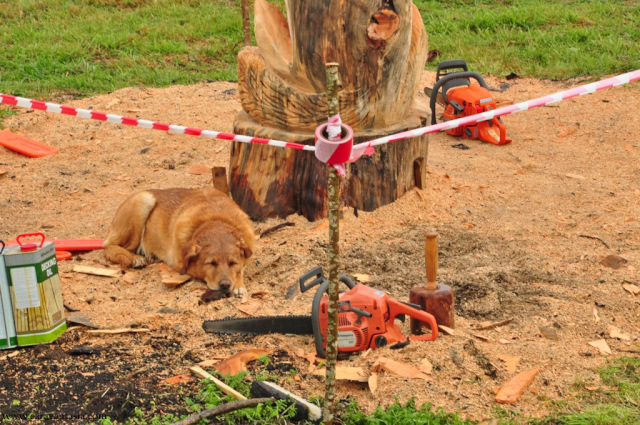 Next up, Liam from Woodelo had brought along a couple of his wooden bicycles and explained how they're made. I hadn't seen these before and wasn't sure what to expect, but was really impressed. They are quite beautiful, and really light.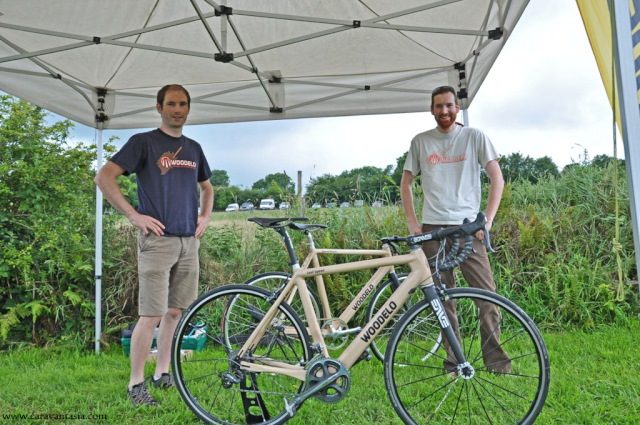 Gary Dalton from Ecoworks (and source of pure entertainment) had brought along his mobile pizza oven and explained how to make one of these as a permanent feature in your home - using two different techniques. Some people got stuck in and got their hands dirty plastering the oven with clay.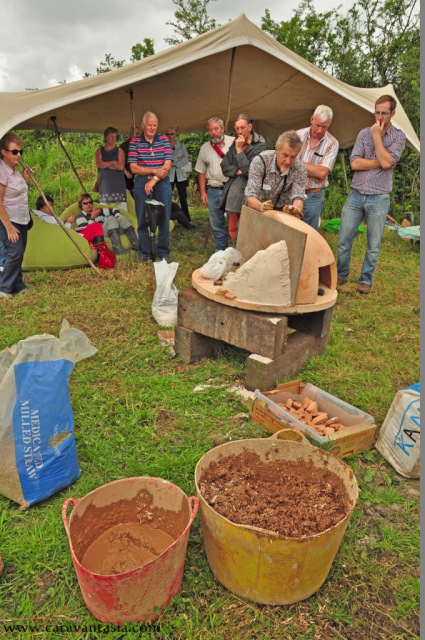 Jim Dunne from Dunnes Sawmills showed how hurleys are made from the butt of an ash tree. He also very kindly supplied us with some beautifully made benches for the day. And if you're reading this, Jim, we have our eye on that lovely gate.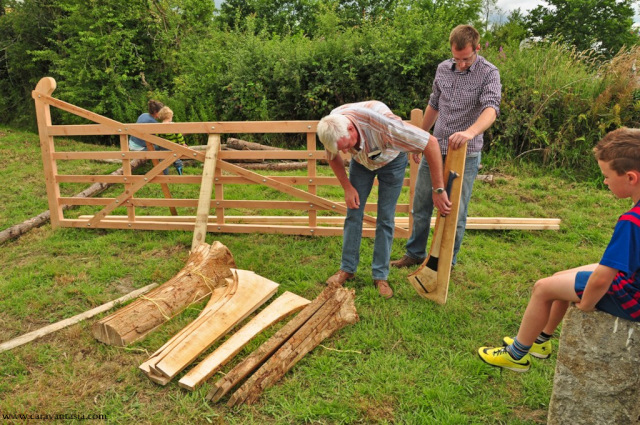 PJ and Molly cooked a barbeque lunch, with organic lamb and beef burgers supplied by Sheepwalk farm, which were totally delish. Some of the salads were supplied by Aimsir Bia, a community organic food growing group in Cashel.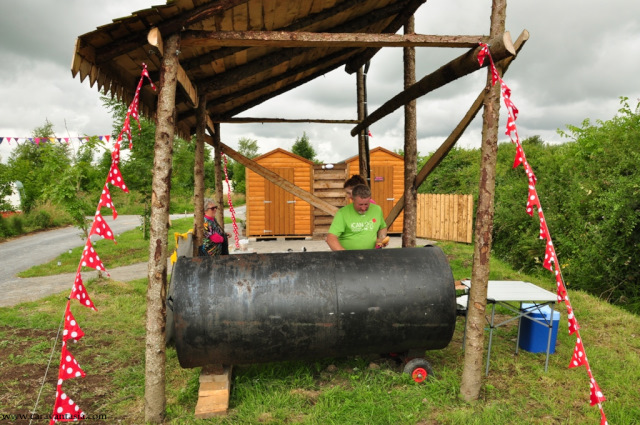 We had some of the caravans on site for our guests to have a look at. Some are finished whilst others will be complete in the next few weeks. We also brought along a 1960's caravan that we've not started work on yet... to show a kind of a 'before and after'.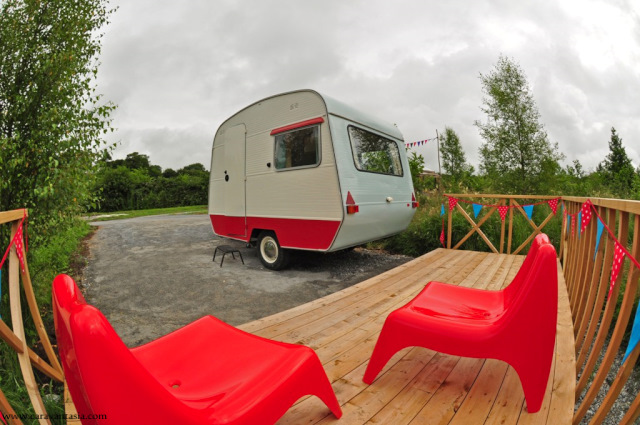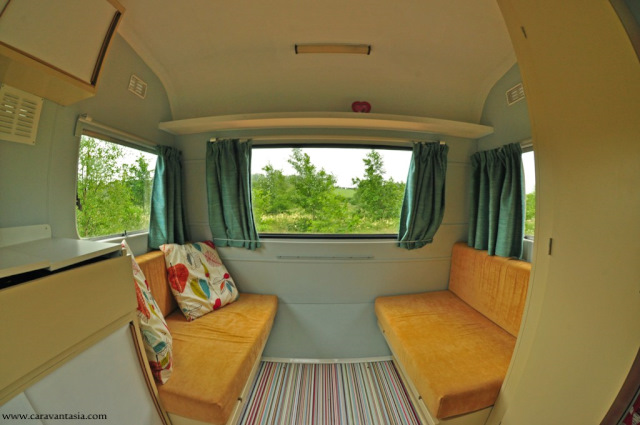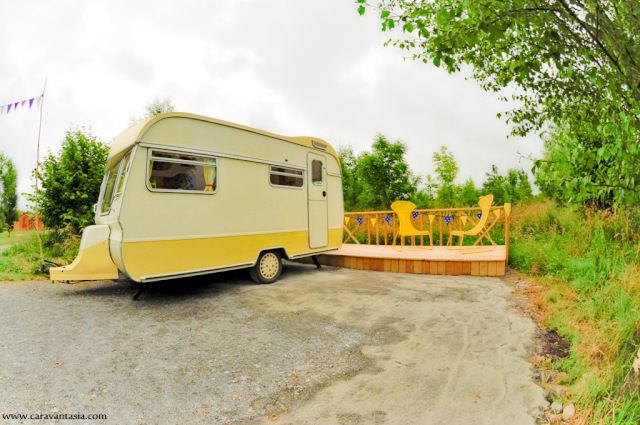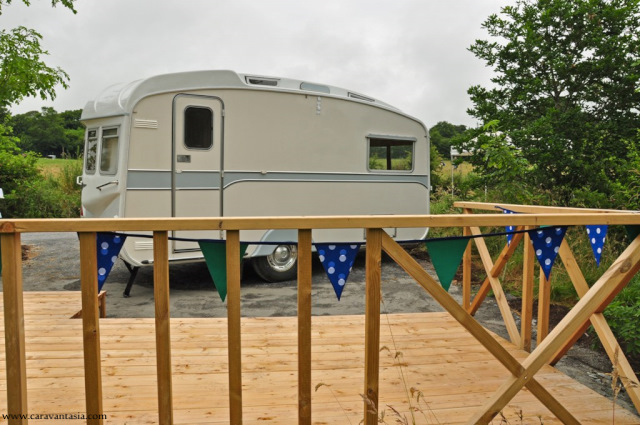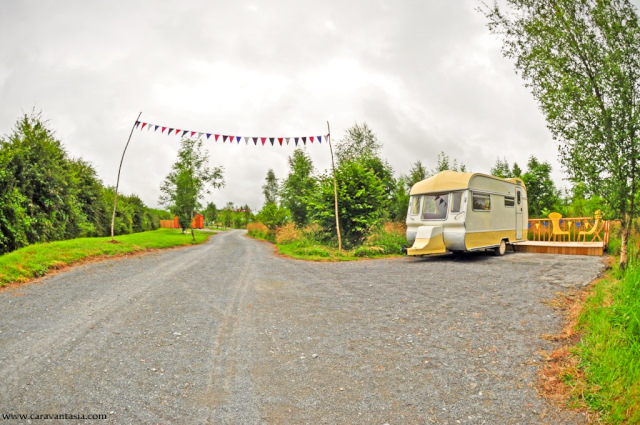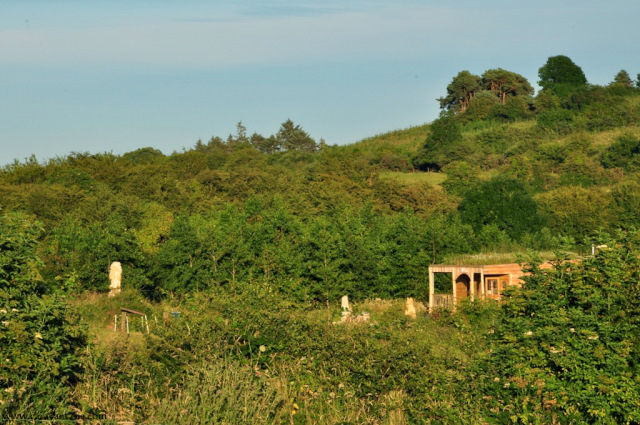 It was a nice dry morning with sunny spells so everyone had the chance to wander around the site, the farm and the ringfort.
And then, out of nowhere... the rain came. Not just rain, but a torrential downpour of biblical proportions. The type that gets you soaked in seconds.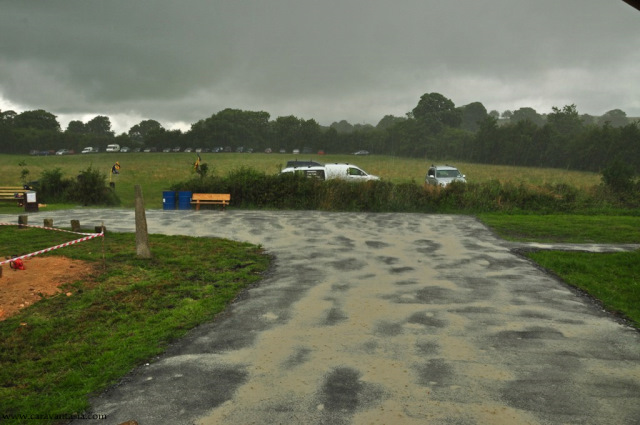 But, hey, we live in Ireland. It rains. We just cope with that sort of stuff don't we... it's only water, right? and we're all waterproof?  
Having said that, I think Madeline and Bill from Peg's Cottage deserve some sort of award for keeping smiling despite getting caught in the middle of a field during the downpour.  Luckily, the last few talks of the day could be done inside, in our 'Green House'. First up we had Peter Cowman talking about "Eco-building on a shoestring", a really interesting talk about building affordable homes that respect and come from the land they're built on.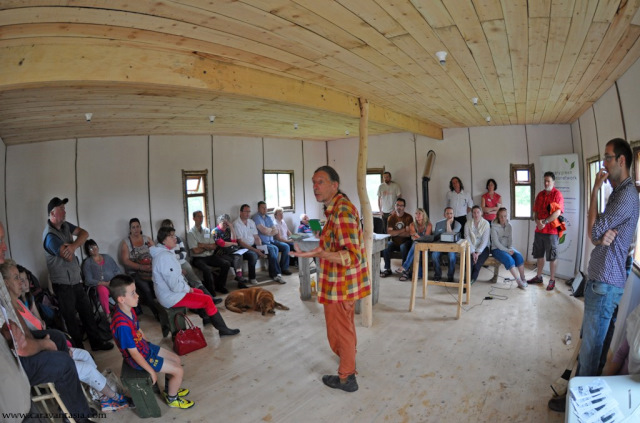 Next, Peter's wife, Alanna Moore, talked about 'Sensitive Permaculture'. Alanna is a master dowser (finding water and energy using a pedulum).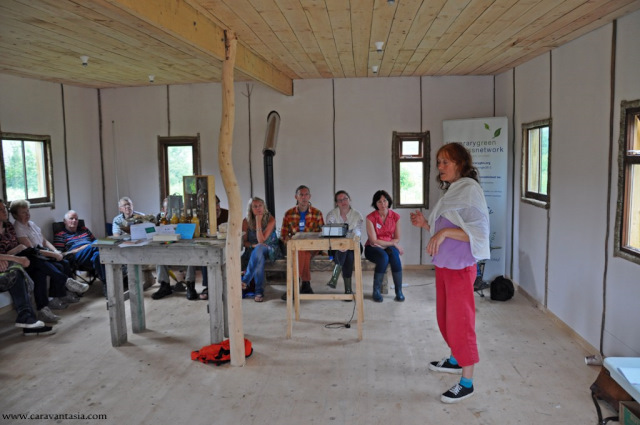 After this, Sean Farrell from Cloncannon Biofarm talked about "Biodiversity and Trees'. Sean has a wealth of knowledge about ecology and has his own organic farm which is open for visits.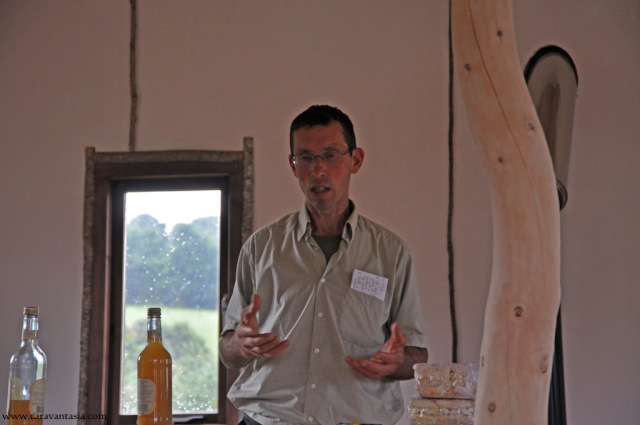 Wrapping up the day, there was a raffle which members of the Tipperary Green Business Network had provided.
If you were there on the day, thank you for coming and we hope you enjoyed the day. We're really grateful for everyone's support.  
So, I guess that's it.... CARAVANTASIA is OPEN. Woohoo!
Thank you so much to our wonderful friends, neighbours and family who've got us this far and the new friends we've made along the way. You know who you are and we thank you from the bottom of our hearts. Every single person who's worked on bringing Caravantasia to life has brought a little bit of their own energy and uniqueness to the site and I think it's this wonderful mix of people that's made this site so special.
So, y'all ... if you 'get' what we're trying to do here, hop onboard the Caravantasia train and let's have some fun...... ..............
.............GO! 
Heather & Tom x
Categories: Events, Progress, Caravans
/