Shopping Cart
Your Cart is Empty
There was an error with PayPal
Click here to try again
Thank you for your business!
You should be receiving an order confirmation from Paypal shortly.
Exit Shopping Cart
Ok, no puns this week. I'm all punned-out. Punless. Devoid of pun.
If you've been following us on Facebook you'll know that over the last few weeks we've been having a sculpture carved as a sort of centrepiece for the site. Here it is, finished…. (*drum roll*)…. "The Mother and the Watcher".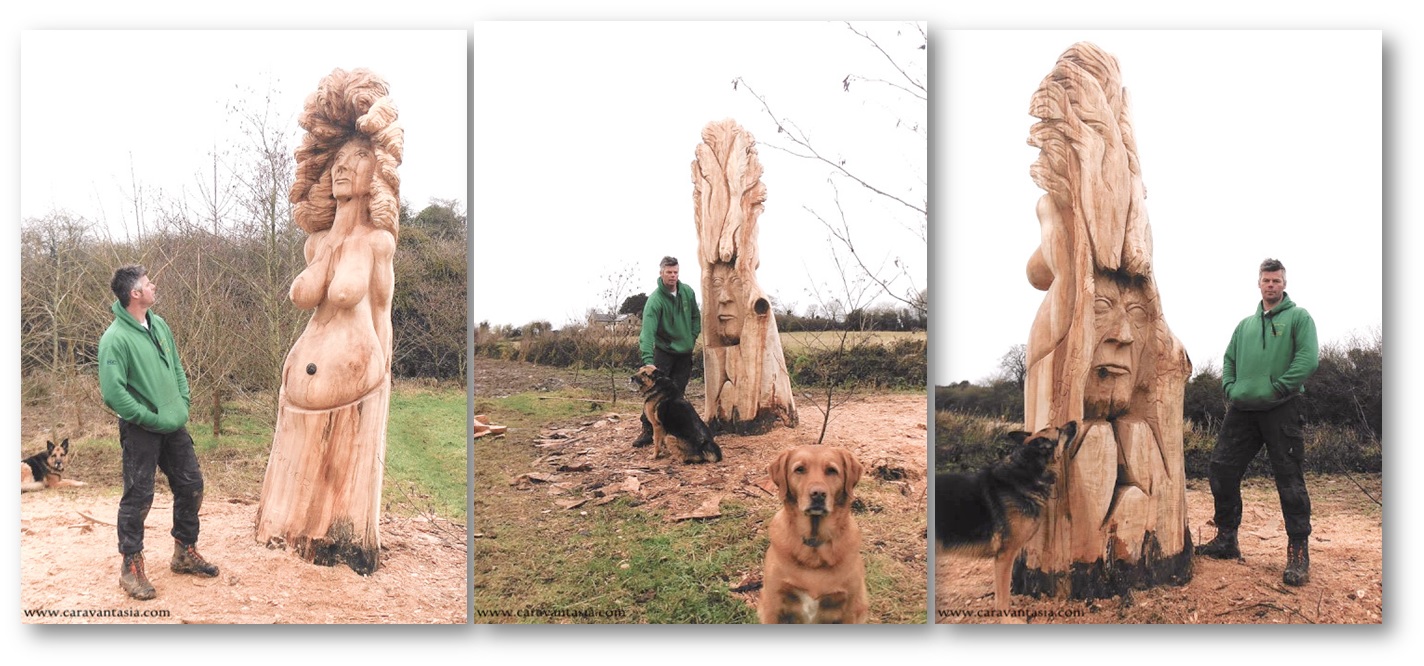 Impressive huh? It was carved from a 14 foot horse chestnut log by the ridiculously talented Richie Clarke http://www.facebook.com/irish.woodcarving. We liked the idea of having a 'guardian' figure to watch over the ringfort, so asked Richie to come up with something that would suit. He's a fountain of knowledge when it comes to Irish mythology, so we were curious to see what he'd suggest. We weren't disappointed.
The carving has two sides – the MOTHER, called 'Danu' who is one of the most important figures in Irish mythology, a 'mother earth' figure if you like. The other side is THE WATCHER, a dude called 'Bile' (pronounced Bee-leh), who was Danu's lover. I'll reproduce the full story of their relationship at the bottom of this post, as told by Richie, because he tells it much better than me.
It's been fun watching the sculpture appear over the weeks. Well, apart from a curious time over Christmas when we were left with Danu and her pair of (unfinished) ginormous boobs staring at us every time we went for a walk. She became affectionately known as 'Pammy' for a while, until Richie returned after Christmas and gave her a pair of 'Mammy' boobs instead. Phew.
"Owwww"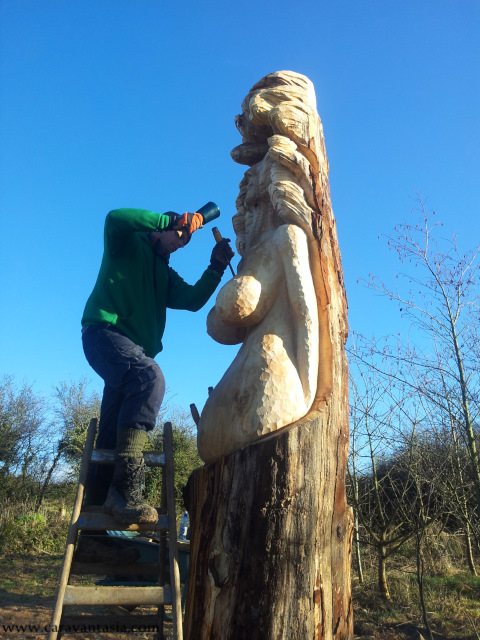 Boob-talk aside, Tom and I are thrilled with the finished piece and are delighted to have such a stunning work of art as part of Caravantasia. I especially like the way that THE WATCHER'S eyes follow you as you're walking past him.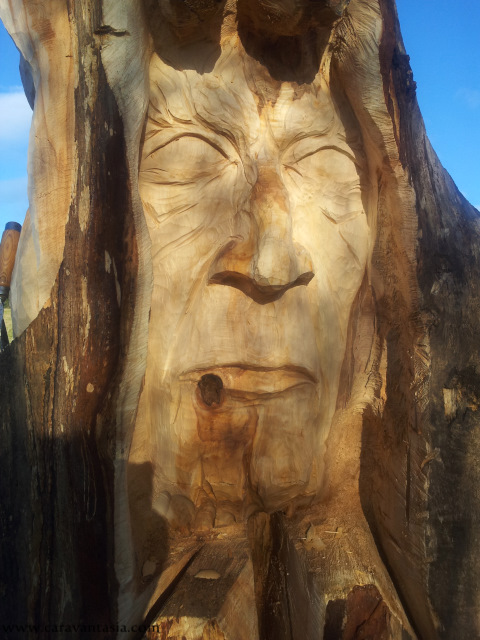 If you'd like to try your hand at creating something similar (albeit on a slightly smaller scale). Richie will be running wood carving courses here in the summer. If you send an email to me at [email protected]  I'll pop your name on the waiting list and keep you updated as to dates etc. In the meantime, if you'd like to know a bit more about the technicalities of carving a sculpture like this, Richie has some more details on his Facebook page. Well worth a look… https://www.facebook.com/irish.woodcarving/posts/624026107634435
Here's the full story of the meaning of the sculpture. A love story of sorts:
DANU was the one of the most important deities of Irish mythology and was "the mother" of the famous Tuatha De Dannan, which is old Gaelic for " children of DANU". She represents fertility, strength, beauty and love. DANU had a male consort named BILE (pronounced bee- leh) . Legend has it that DANU was upset by lost spirits of her people, unable to make their way to the Celtic Spirit World, or Underworld. She implored her lover BILE , to take spiritual form as a magical Oak tree and to "watch" and "guide" her people's spirit's to safety.
BILE agreed reluctantly because of his love for DANU, to sentence himself to this task forever, provided that, on the first day of summer every year, he could take human form again and couple with his lover DANU.
This day later became known as BELTAINE, which is one of the major Celtic festivals. The sculpture shows DANU (the mother) as a strong, heavily pregnant mother to the Tuatha. She is fertile, loving and fearless! In her navel is the Irish Trinity Knot which represents the elements........ earth... Air.......water. Also it represents mind........body...……..spirit.
She is linked to The Watcher both physically and spiritually as she created him in his altered state.The Watcher is shown gazing intently into the far distance. He is watching and waiting to guide the lost souls of his lover's people to rest......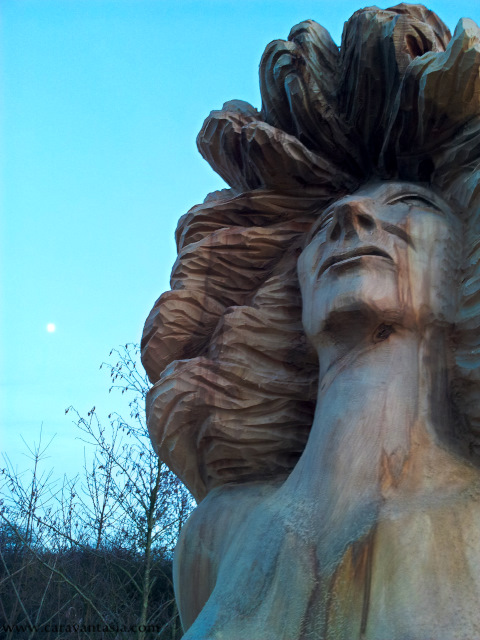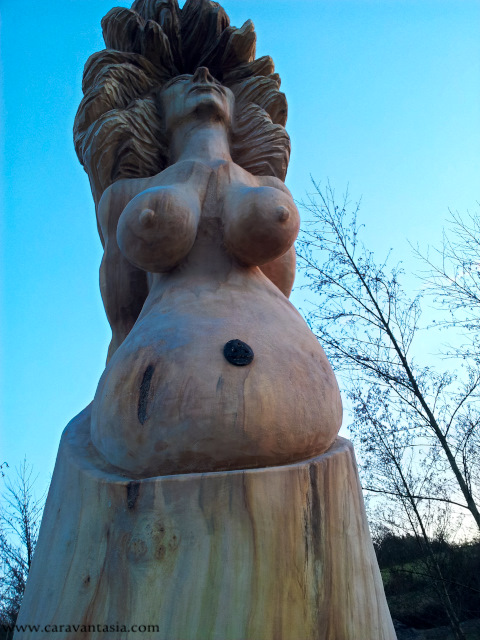 Categories: Progress
/