Shopping Cart
Your Cart is Empty
There was an error with PayPal
Click here to try again
Thank you for your business!
You should be receiving an order confirmation from Paypal shortly.
Exit Shopping Cart
Tom and I now have quite well defined (traditional) roles when it comes to restoring a caravan. Tom paints things and generally does stuff that involves the use of power tools. I make curtains, wallpaper, upholster and make things look pretty. To even things out a bit in the equality stakes, we both do A LOT of cleaning.
Because Tom has been mainly occupied with working on getting the campsite ready for the last few weeks, work on the caravan restoration has been slow. I'm now waiting for him to do his man-work on the caravans before I can continue with the beautification side of things.
So, to keep myself occupied, I have acquired a minature version of Caravantasia!  I picked these up on ebay for significantly less than the cost of a full sized vintage caravan and am going to restore them in line with the big versions.
Mint versions of these caravans in their original boxes sell for up to €100 - €200 (I know!) and I'm probably committing some sort of crime in the world of mini vintage caravanning by painting over their original colours, but hey, what the hell.
Watch this space... to get them fully renovated it may take me all of.... ooh, lets see...... a couple of hours.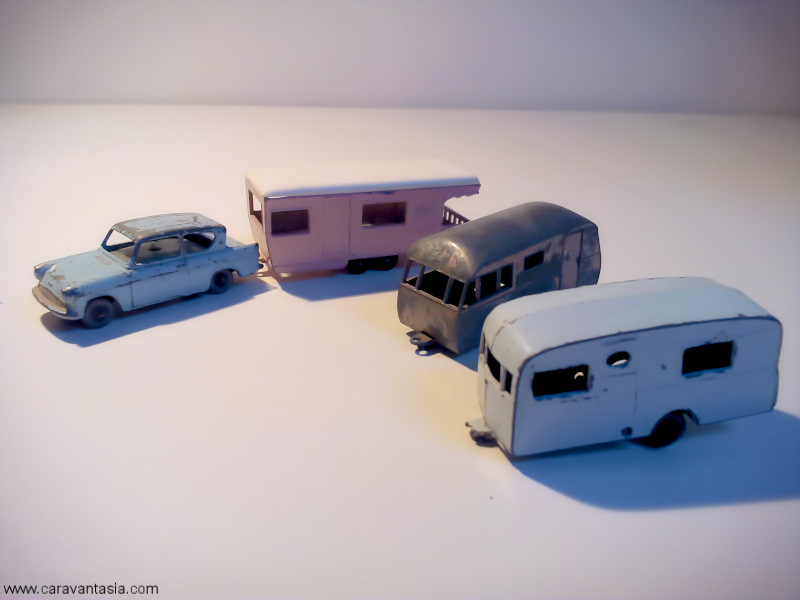 Categories: Progress, Caravans
/