Shopping Cart
Your Cart is Empty
There was an error with PayPal
Click here to try again
Thank you for your business!
You should be receiving an order confirmation from Paypal shortly.
Exit Shopping Cart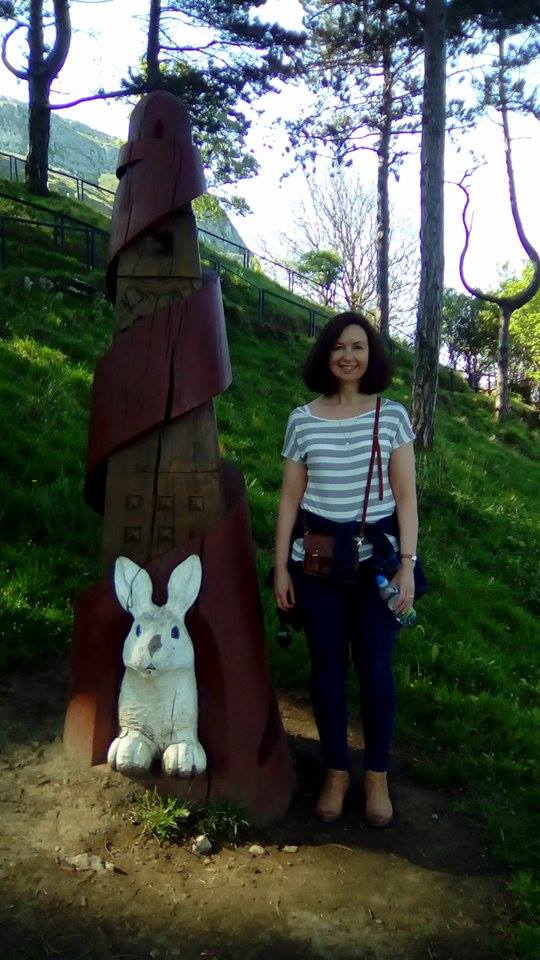 You see, I came across this white rabbit and followed him down a hole and ended up involved in all kinds of shenanigans. And THAT's why I haven't blogged in so long.
So, before I get arrested for crimes against blogging (not to mention all of that dodgy stuff that happened in Wonderland), I'll just move swiftly on shall I and we'll say no more about it?
Caravantasia's 2016 season has started with a bang. Tom has been putting in lots of hours in the workshop to finish our two new caravans for this season and I've been sewing up a storm making curtains and re-upholstering cushions.
The first of the caravans is called the "Sylva". She was made in the West of Ireland in the 60s and was owned by the same family in Galway from new. The lady we bought it from was the daughter of its original owner and told us about the family holidays they enjoyed in it as kids, sleeping two adults and up to six children (gulp!). At Caravantasia she'll be rented out as a more spacious 4 berth!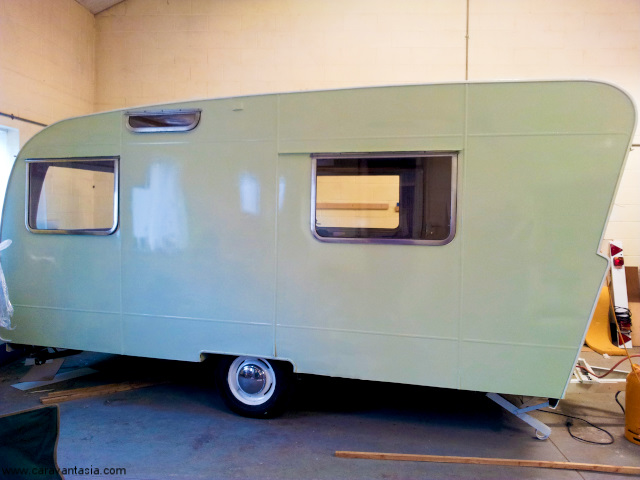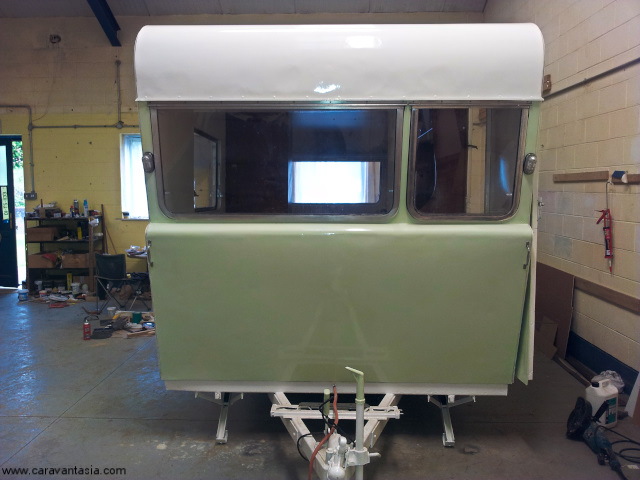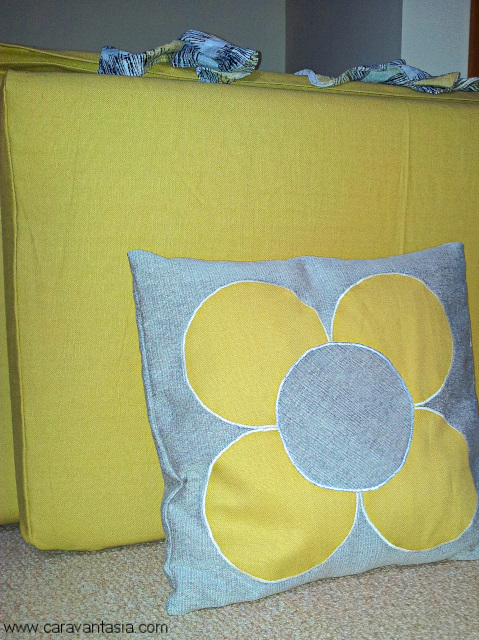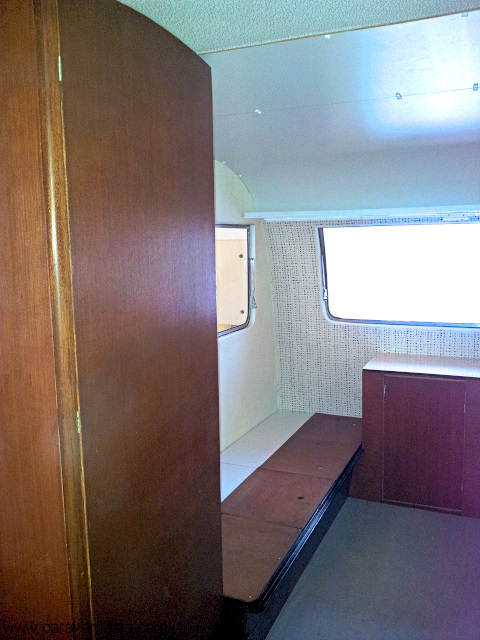 Unfortunately, time hasn't been kind to this old caravan and we had to completely strip her back and replace all of the internal walls and framework. I suspect it may have been easier just to build a new caravan, but she's a rare old Dame so we wanted to give her a bit of respect. We're just putting back all of the fixtures and fittings and will have all of the soft furnishings, pictures, nick-nacks and other bits of prettification in her by the weekend. She'll be a little 1960s palace.
Next up is "Wilma". She's a CI Cadet and was a very popular caravan in the 1970s. She's being furnished in a slightly headache-inducing 1970s colour scheme, but a little toned down to make sure guests actually get some sleep.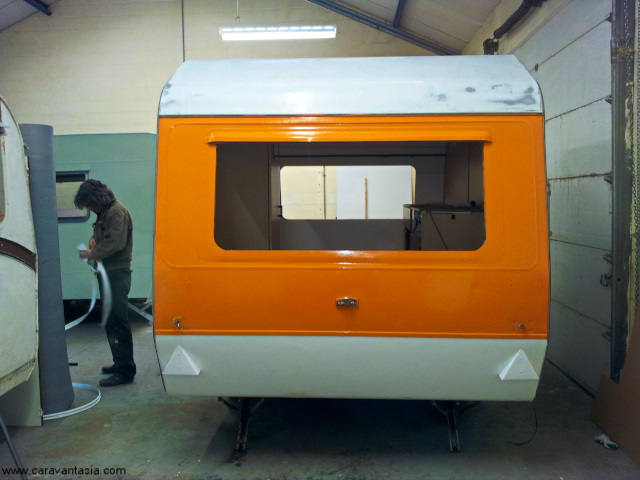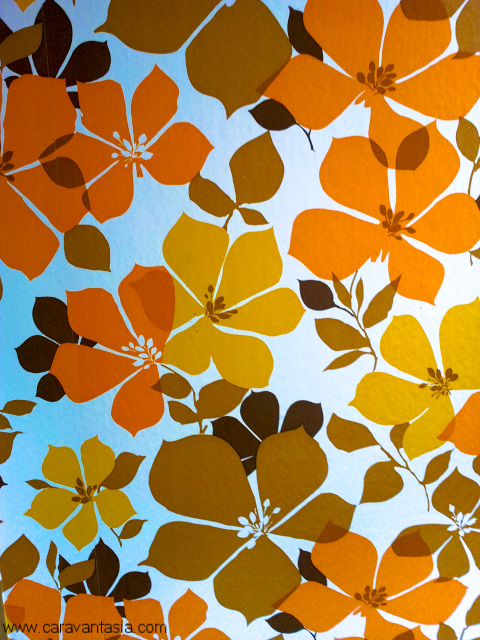 She's called Wilma because Tom's first crush was on Wilma from 70s TV programme "Buck Rogers in the 25th Century". This probably had a lot to do with all of those lycra space costumes. I had a massive crush on Buck, but Buck is a weird name for a caravan and sounds a bit rude. I will leave you with a photo of the dazzling duo and will be back much sooner with pics of the newly unveiled caravans.
Oh Buck…… *sighs*………..such 70's perfection….. :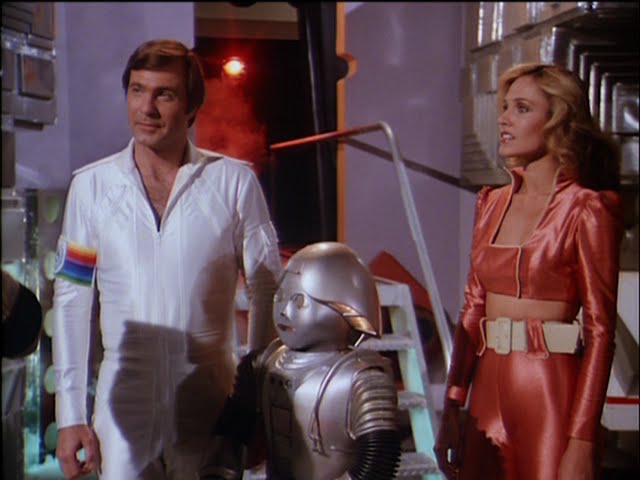 BEHOLD! "Maggies Kitchen", our new outdoor eating area is now more than just a figment of our imagination. It's now looking more like the shabby old ruin that it's supposed to be.  The back story to Maggie and the Kitchen is here if you're at all interested. 
Over the last couple of weeks, Tom and Dave have been slaving away in that gorgeous summer weather we enjoyed recently, dilligently provided with ice cream and sympathy by yours truly. 
Hopefully you can now get a better idea of how it will look when it's finished. The good thing about building a ruined building is that you get to decide when it's finished.... "But it's got no roof?" they say... Pah! It's meant to have no roof! "But it's got no walls on two sides?" Silly!  walls are sooo last year!  Just think, it could become a whole new concept in building... it would save on a hell of a lot of maintenance.
Anyhow, I digress. Maggies kitchen will have a barbeque and a cooking griddle for morning fry-ups. It will have a sink for drinking water, two windows and a functioning chimney and fireplace for warming cold hand on chilly evenings.  We also plan to have a temporary roof on it on the off-chance that it may rain at some point over the summer. 
There's just a bit of the two walls to finish now, then we get to decorate it with all of the things you might find in an old Irish cottage. We're thinking pictures of the Pope (John Paul II, of course), JFK, some nice china etc. All suggestions welcome!
So, you want to see some photos don't you? As usual most of the photos have dogs in them, and there's one extra this time too because Dave's dog, Jim the Jack Russell, accompanied him on the build.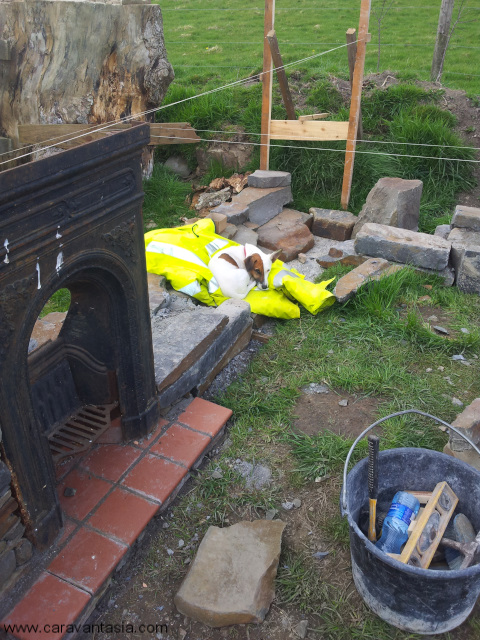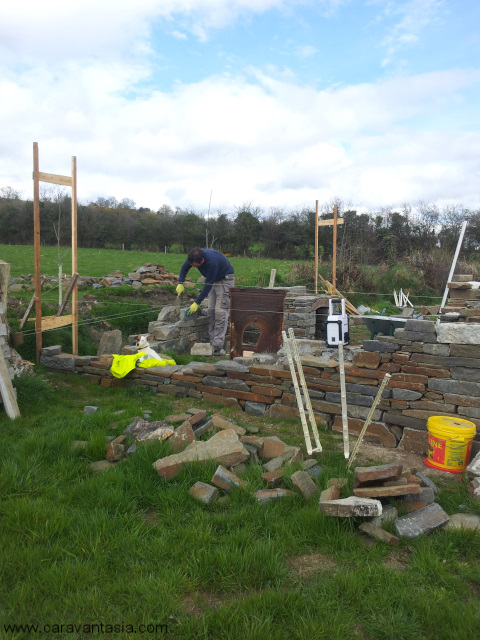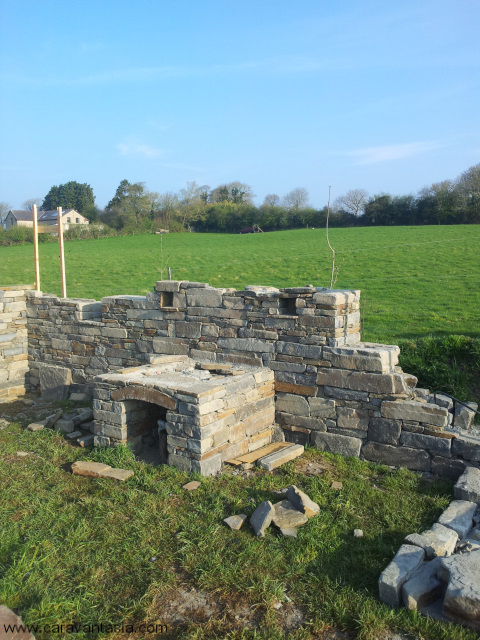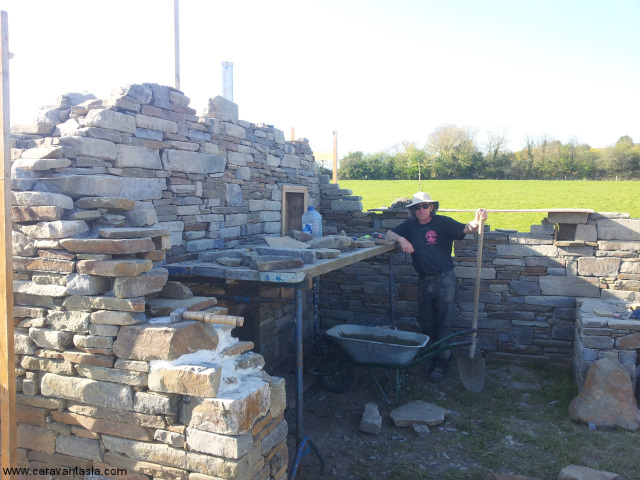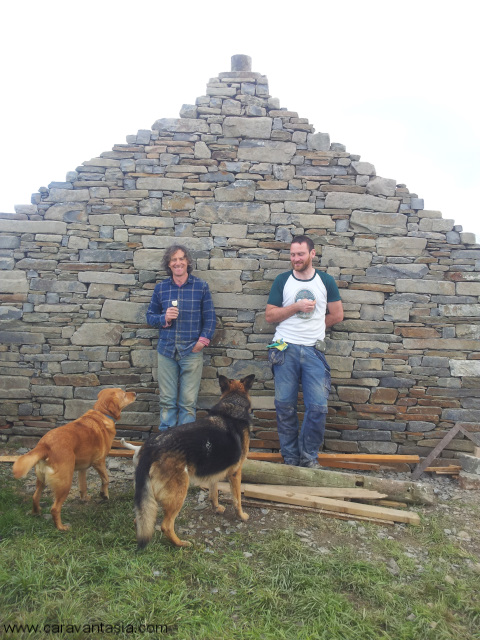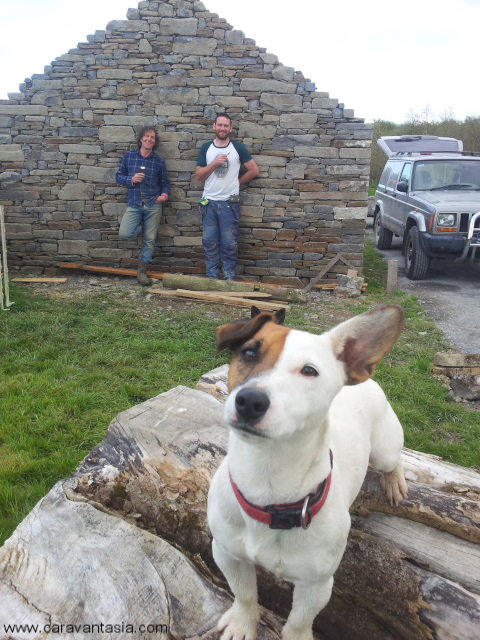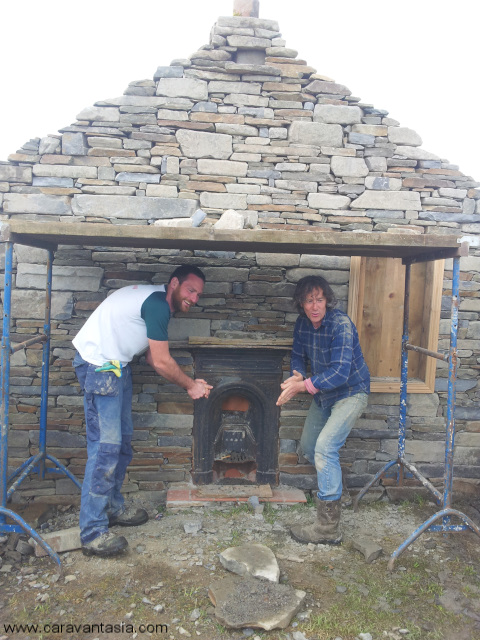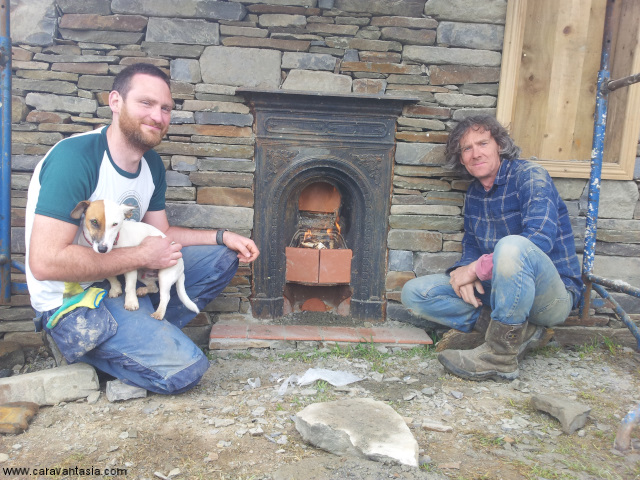 Wooah, what happened there.... I was gone for a bit too long. Busy summer and [insert random excuse] stuff.
So, the caravans are all closed up for the year, but that doesn't mean that Tom and I are also in hibernation. There are THINGS happening!
As part of our planning permission for the site, we are allowed to build seven 'follies' i.e. things that may or may not have a purpose and may or may not be completely ridiculous.
We have recently got approval for three follies, these are "Maggie's Kitchen", a cob house and a fire pit.  The first of these to be built is "Maggies Kitchen" which will be an outdoor eating area in the style of an old ruined irish cottage, incorporating a barbeque and a pizza oven and a traditional fireplace. It makes PERFECT SENSE in our heads, I promise you. 
Why is it called 'Maggie's Kitchen'? The last of Tom's relatives to live here were his Aunt Maggie and Uncle Jim. By all accounts Maggie was a lovely lady and a lot of our neighbours who would have been kids back in the 70's and 80's have fond memories of her baking and her 'smokey lemonade', a homemade lemonade that had a distinctive smokey flavour due to the turf fires in the kitchen.  So when we came up with the idea for an outdoor kitchen area with an old Irish theme, we had to make sure that Aunt Maggie was acknowledged in some way. 
In the photo below, Aunt Maggie is the lady on the right. Do you notice anything weird about this picture? Oh yes, there's a small child levitating in the background.... something to do with the smokey lemonade, no doubt. 
Maggie and friend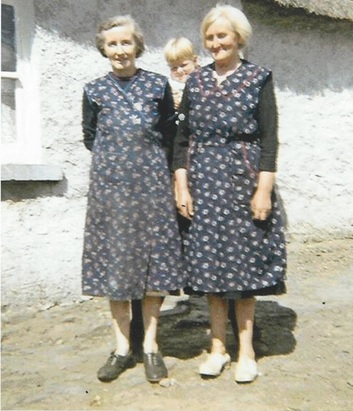 Tom has been hard at work digging foundations and has begun to build the walls of the structure.  We're hoping that the main structure will be finished in the next few weeks and the whole area will be ready for when the spring and the warm weather are back with us. 
Foundations of Maggie's Kitchen poured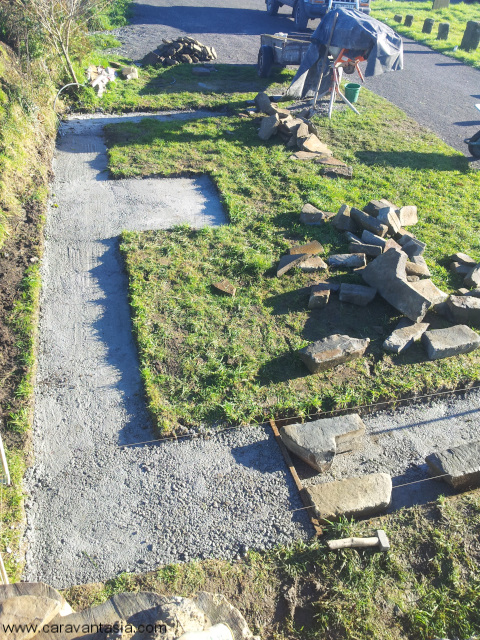 Main walls being built (Green house in the background)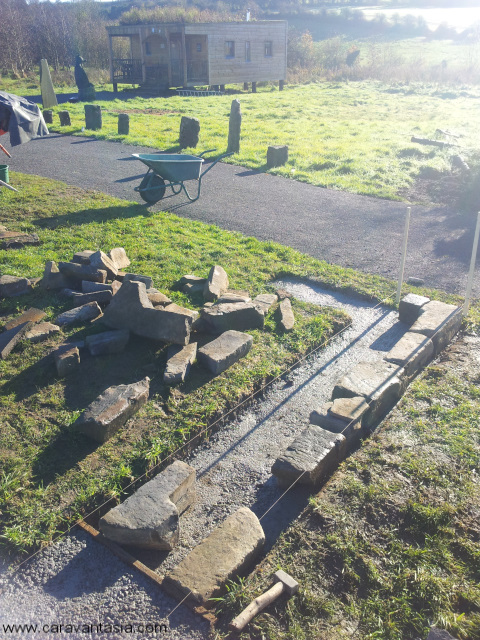 Honey dog is not at all impressed with this flurry of activity. There is much less playing and stick-throwing going on, and much more sleeping on the agenda.....
"Dog in the fog"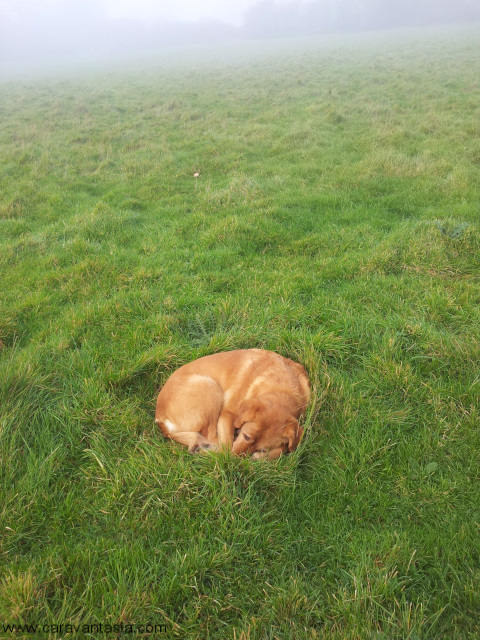 Yowch! Could the title of a blog entry about solar lights be any more cheesey? (answer: probably... don't tempt me). 
Our 'ethos' for the site is to be as green as possible, but without forcing it down people's throats. We don't want to be all green and preachy and make our guests shower in recycled pond water*, but we do want to have as little impact as possible.
One of the ways we're doing this is by going 'off-grid' and using solar energy for hot water and electricity. The hot water for our showers and toilets is heated by solar panels and the lights for the toilets and showers are all solar powered too and are on automatic sensors.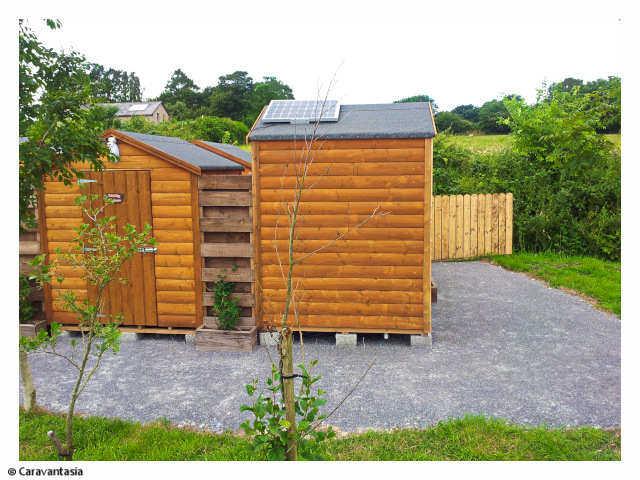 We've been really impressed at how bright the lights are. I'd always imagined that solar lighting would be a bit puny and temperamental, but that's not the case at all. You wouldn't notice the difference from mains power, and I guess that's how it should be. 
In the Green House we have solar lights inside, solar fairy lights outside and a PV panel for electricity to power a laptop, stereo etc.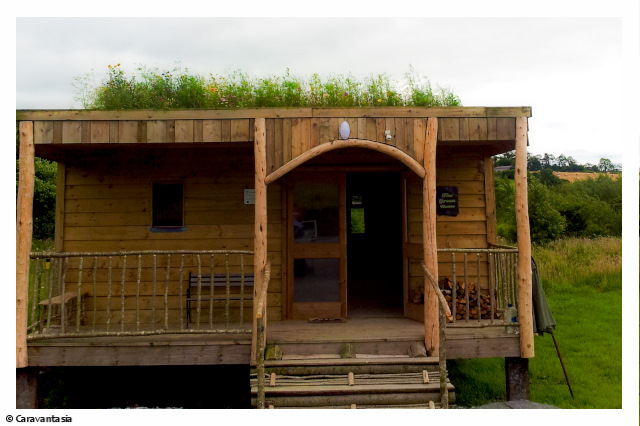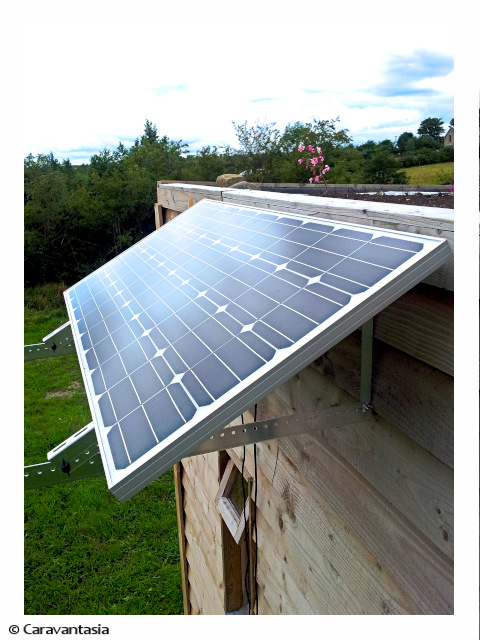 Colm Griffin at http://www.purchase.ie supplied the bespoke solar lighting system for the site and I'd thoroughly recommend the company. Not because I'm getting paid to say that or anything, just because it's true. 
Also a big shout out to our super-efficient plumber Harry Ardnt who installed the solar hot water system and Jimmy Hayes from Killenaule who worked some late nights to get everything installed before our launch. Thank you!
So, now we can carry out all manner of activties in the Green House at night.... ....solar powered rustic pole-dancing classes anyone? .......... anyone?.............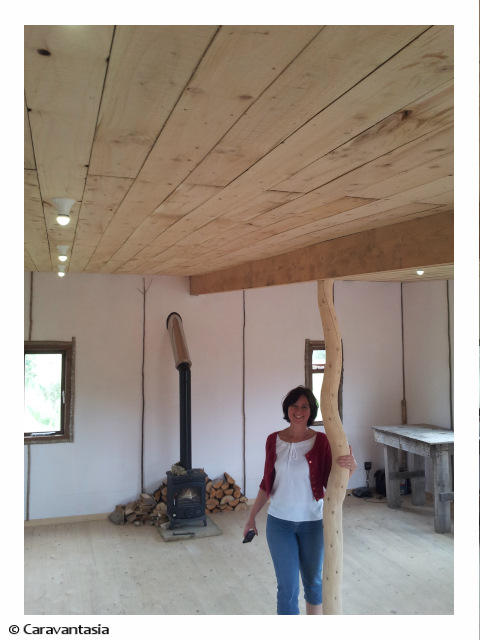 * the water comes from a well, in case you were wondering ;-) 
Phew, what a week it's been. We've had a small army of people here for the last week, helping us with the final push to get the site ready for the opening event, OUT OF THE WOODS, a day of tree-related events hosted on behalf of the Tipperary Green Business Network. 
It's been hard work... there have been long days, late nights and a few unexpected things to keep us on our toes (such as escapee cows and magotty sheep) but there's also been a huge amount of craic. Loads of the stuff.  
So, at around 10:30 on Saturday 19th July, Caravantasia was declared officially open, with the ding a ling of a bell...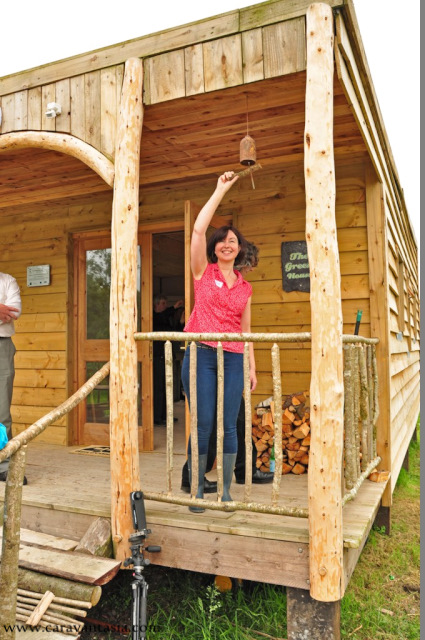 Wesley Seery started the day off with a presentation and demonstration about how to make charcoal. He also bought charcoal along for the barbeque. There was lots of fire and smoke (mainly smoke) and lets face it, who doesn't love a bit fire.
The process takes several hours, but we checked the barrel this morning and it was full of perfect charcoal. There are very few people in Ireland making charcoal from native Irish wood (most of it comes from China, Argentina etc), so it was great to be having locally produced food cooked on locally produced charcoal. Wes is from Mayo, which isn't exactly local, but we'll let that one pass ;-)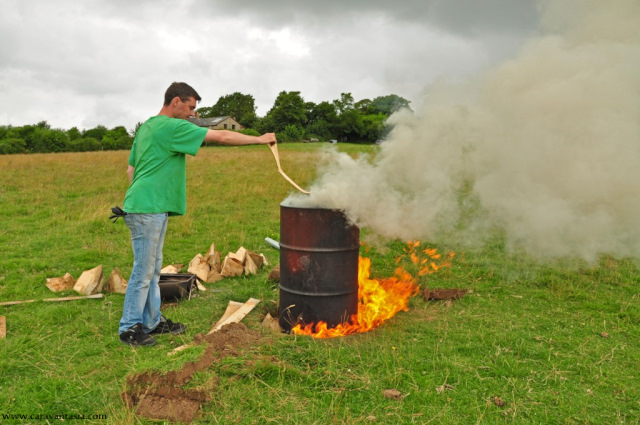 Richie Clarke (www.clarkewoodcarving.com) was next up, he'd arrived a couple of days prior to the event to make a start on a sculpture that he would finish on the day. He gave a talk on how he approaches carving, both with the chainsaw and hand tools and shared how he gets his inspiration for his work. The carving of a fox was finished by the end of the day and the result was pretty impressive. The sculpture will be going to a private house near Clonmel.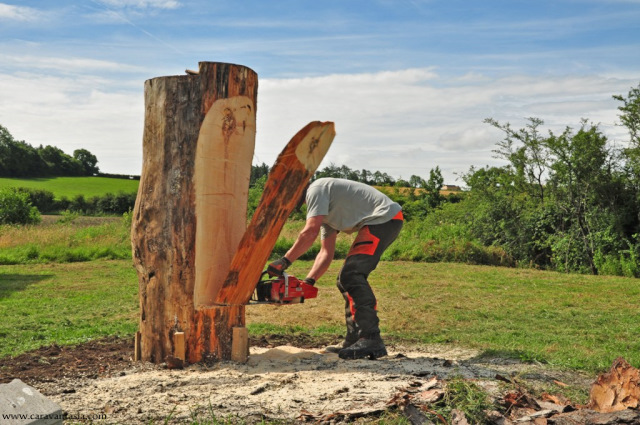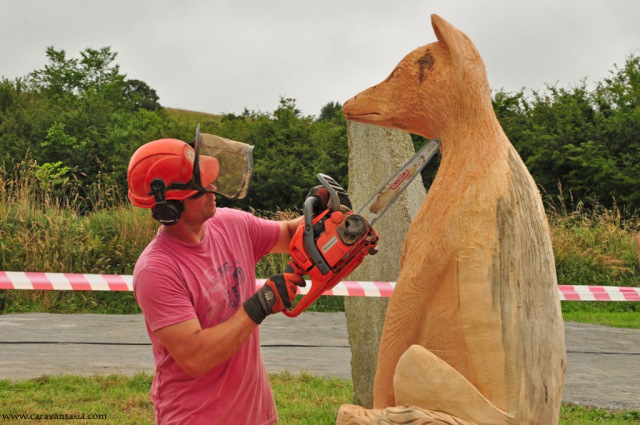 Honey the dog checked out the Health & Safety arrangements for the day.... yes, beside the guy with the chainsaw looks like the perfect place to sleep. Of course.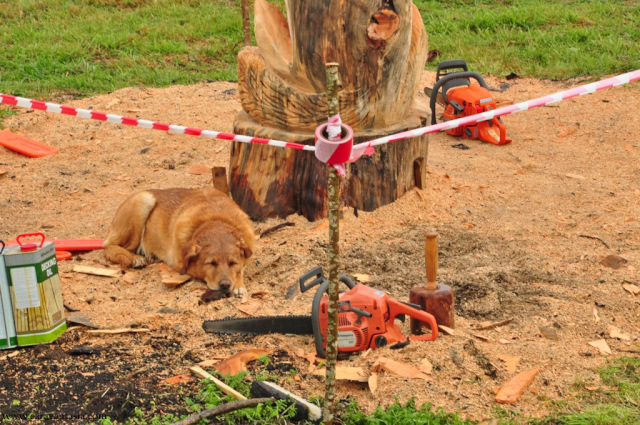 Next up, Liam from Woodelo had brought along a couple of his wooden bicycles and explained how they're made. I hadn't seen these before and wasn't sure what to expect, but was really impressed. They are quite beautiful, and really light.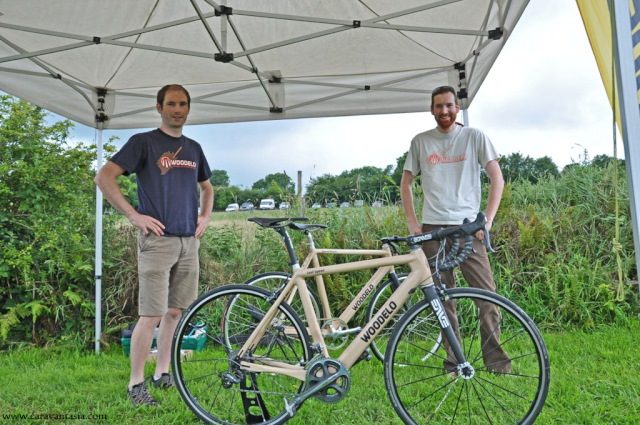 Gary Dalton from Ecoworks (and source of pure entertainment) had brought along his mobile pizza oven and explained how to make one of these as a permanent feature in your home - using two different techniques. Some people got stuck in and got their hands dirty plastering the oven with clay.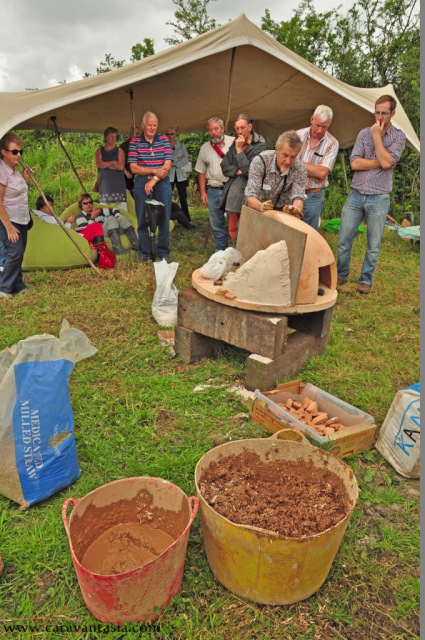 Jim Dunne from Dunnes Sawmills showed how hurleys are made from the butt of an ash tree. He also very kindly supplied us with some beautifully made benches for the day. And if you're reading this, Jim, we have our eye on that lovely gate.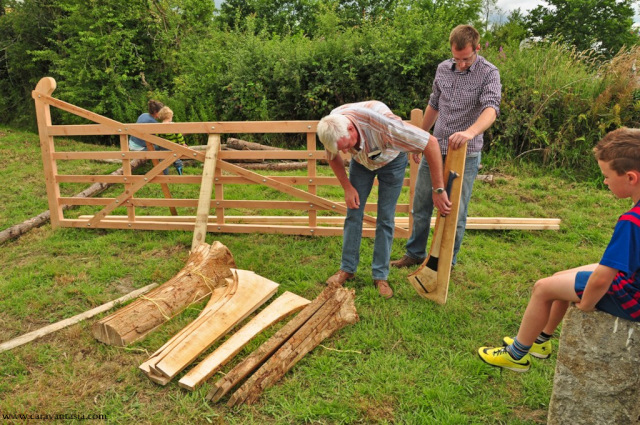 PJ and Molly cooked a barbeque lunch, with organic lamb and beef burgers supplied by Sheepwalk farm, which were totally delish. Some of the salads were supplied by Aimsir Bia, a community organic food growing group in Cashel.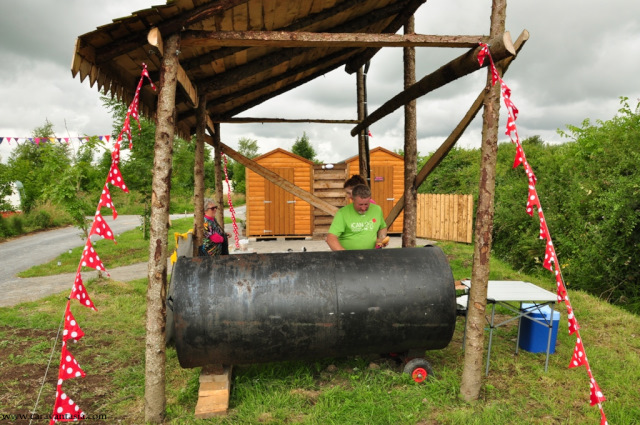 We had some of the caravans on site for our guests to have a look at. Some are finished whilst others will be complete in the next few weeks. We also brought along a 1960's caravan that we've not started work on yet... to show a kind of a 'before and after'.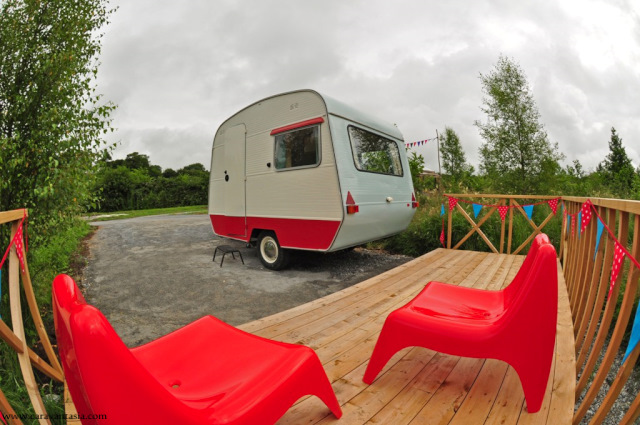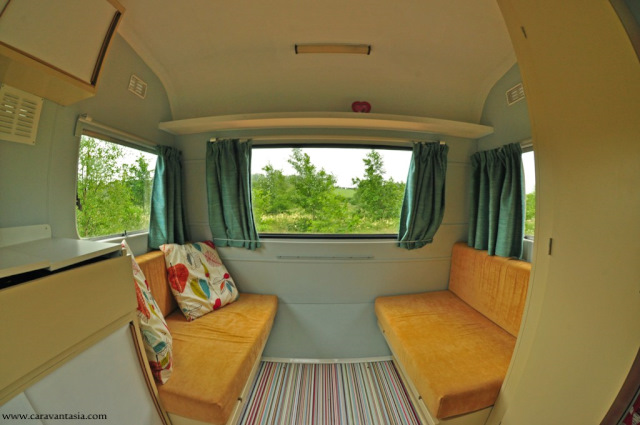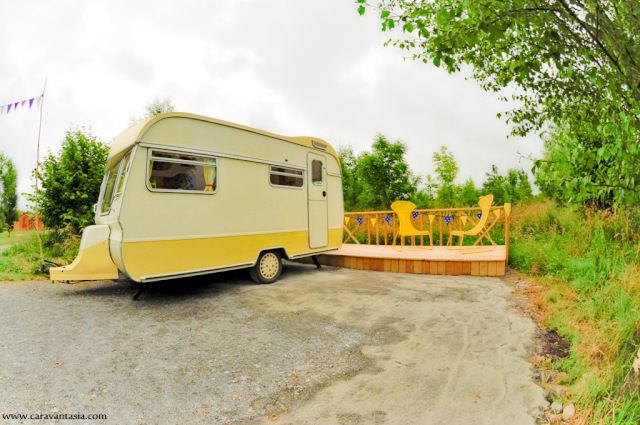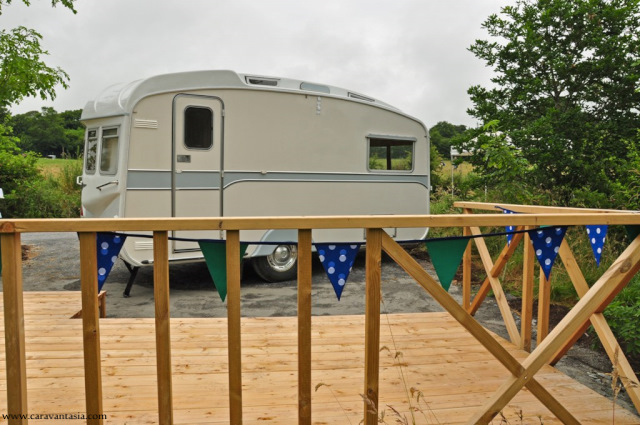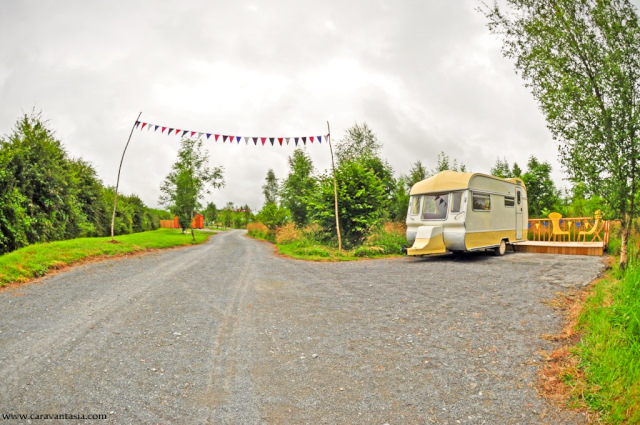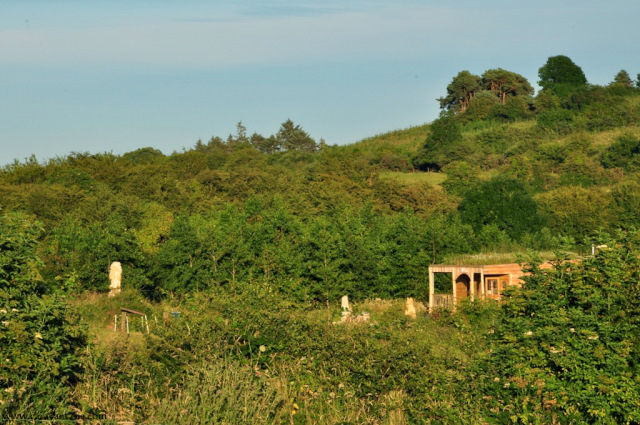 It was a nice dry morning with sunny spells so everyone had the chance to wander around the site, the farm and the ringfort.
And then, out of nowhere... the rain came. Not just rain, but a torrential downpour of biblical proportions. The type that gets you soaked in seconds.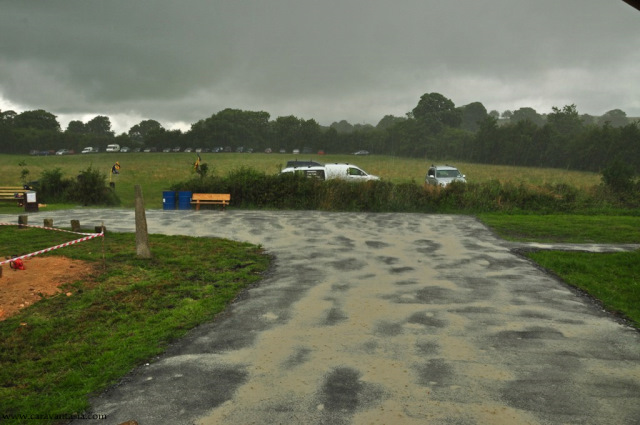 But, hey, we live in Ireland. It rains. We just cope with that sort of stuff don't we... it's only water, right? and we're all waterproof?  
Having said that, I think Madeline and Bill from Peg's Cottage deserve some sort of award for keeping smiling despite getting caught in the middle of a field during the downpour.  Luckily, the last few talks of the day could be done inside, in our 'Green House'. First up we had Peter Cowman talking about "Eco-building on a shoestring", a really interesting talk about building affordable homes that respect and come from the land they're built on.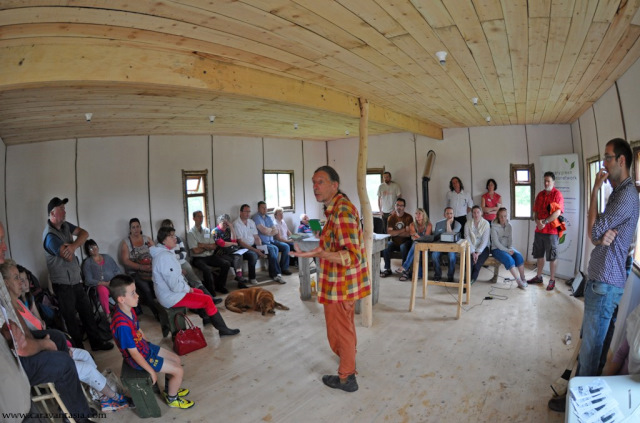 Next, Peter's wife, Alanna Moore, talked about 'Sensitive Permaculture'. Alanna is a master dowser (finding water and energy using a pedulum).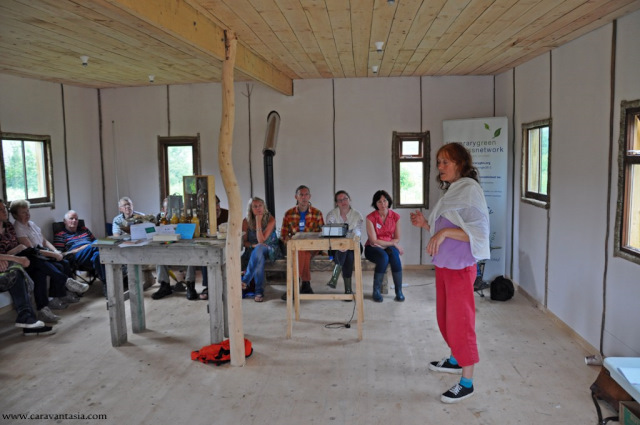 After this, Sean Farrell from Cloncannon Biofarm talked about "Biodiversity and Trees'. Sean has a wealth of knowledge about ecology and has his own organic farm which is open for visits.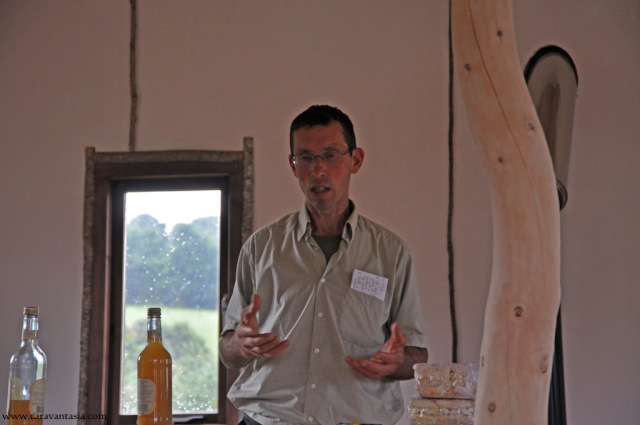 Wrapping up the day, there was a raffle which members of the Tipperary Green Business Network had provided.
If you were there on the day, thank you for coming and we hope you enjoyed the day. We're really grateful for everyone's support.  
So, I guess that's it.... CARAVANTASIA is OPEN. Woohoo!
Thank you so much to our wonderful friends, neighbours and family who've got us this far and the new friends we've made along the way. You know who you are and we thank you from the bottom of our hearts. Every single person who's worked on bringing Caravantasia to life has brought a little bit of their own energy and uniqueness to the site and I think it's this wonderful mix of people that's made this site so special.
So, y'all ... if you 'get' what we're trying to do here, hop onboard the Caravantasia train and let's have some fun...... ..............
.............GO! 
Heather & Tom x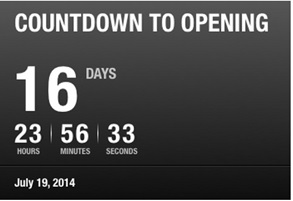 Eeek! There's nothing like a countdown clock to focus the mind. There are now 16 days left till our opening event "Out of the Woods" and we're busy getting the site ready for the day. Life has become a hectic whirlwind of random actvities such as wallpapering a caravan in the middle of a field, climbing onto a roof with a hose to water plants and tiling garden sheds. Random, yes, but good fun too. Here's a few pics: 
"The Atom" - all finished now and ready for her new curtains and cushions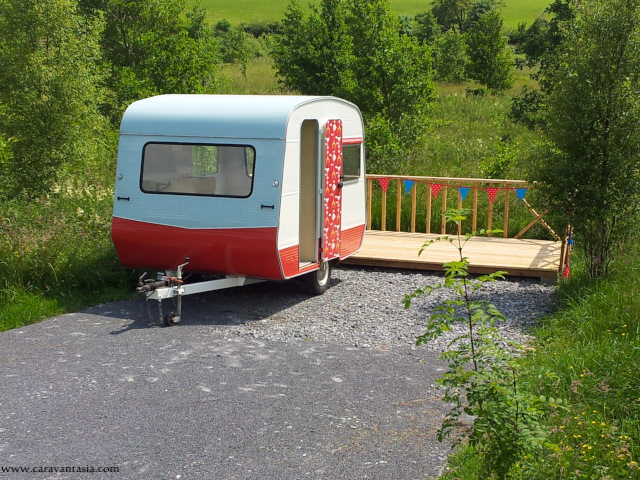 Watering the roof of the Green House - the wildflowers were becoming a little parched in the sun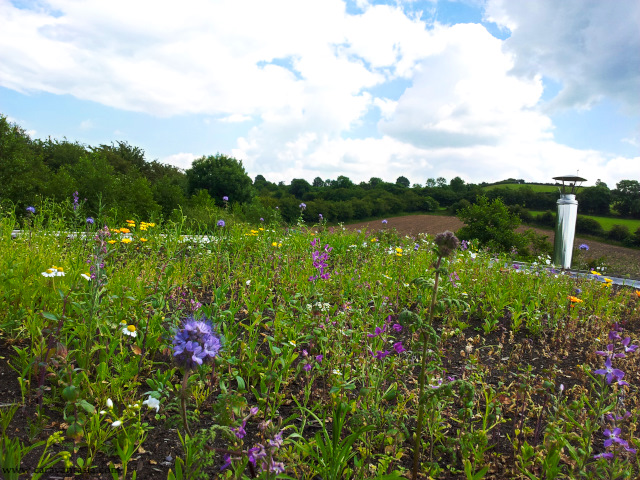 Of course it's a well known fact that all work and no play is bad for the soul.....sometimes you have to take a bit of time out to enjoy the surroundings. The caravan decks have become my go-to place for a spot of relaxation (the tables and chairs for the decks are being deleivered next week, hence the rather laid-back angle of the photo below).  We've left the areas around the decks untouched and a bit overgrown because it's such a good wildlife haven and we think that most people would prefer to share their space with the birds and bees?  
Chill.......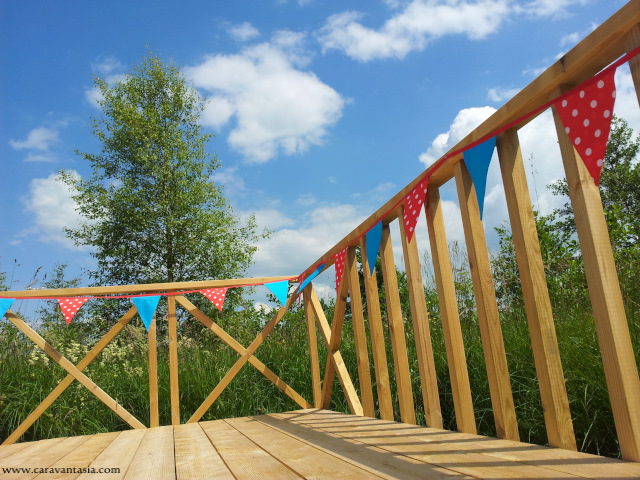 Today, my random tasks will include sewing a set of curtains for a shed and making a garden for an 8ft wooden hare to live in.... as you do. 
Tick tock... 
For a while we've been thinking about what to call the wooden building on stilts that will be our workshop / communal building / place where all manner of fun things happen. "Workshop" sounds too much like "Work" (bleuh) and "Communal" sounds too much like a commune and brings to mind weird religious cults (or is that just me).
I'm not sure how it happened, but the little wooden building on stilts is now called "The Green House". It's green because it's built from wood and will be solar powered, not because it will be used to grow fruits and vegetables in. And just to confuse you even more, we painted the inside walls pink!  It's subtle though, I promise.... just enough to take away the white glare.
Carpenter extraordinare, Richie Clarke, has been back with us to help finish off the ceiling in the Green House and build the decks for the caravans. We've also had a few friends visit lately and the rule there is that you generally get a paint brush shoved in your hand on arrival in return for B&B. It has been much appreciated.. thank you Cath, Glen and John for the help with painting and sanding the insides of the Green House and thank you Emma for helping us plant some more trees around it.
Here's a few pics of building that finally has a name..... .
The porch...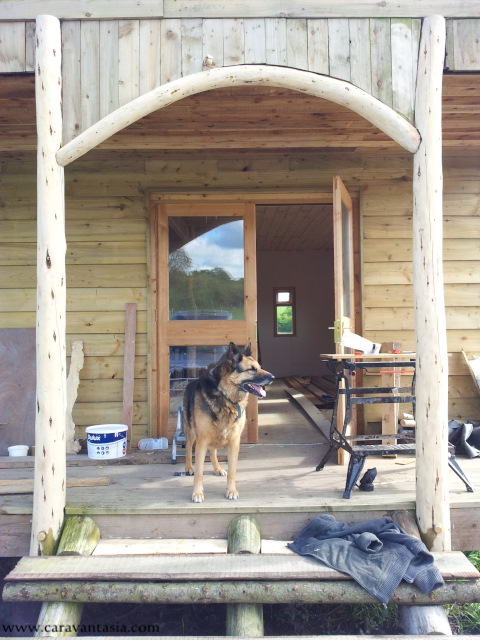 The ceiling being put in place...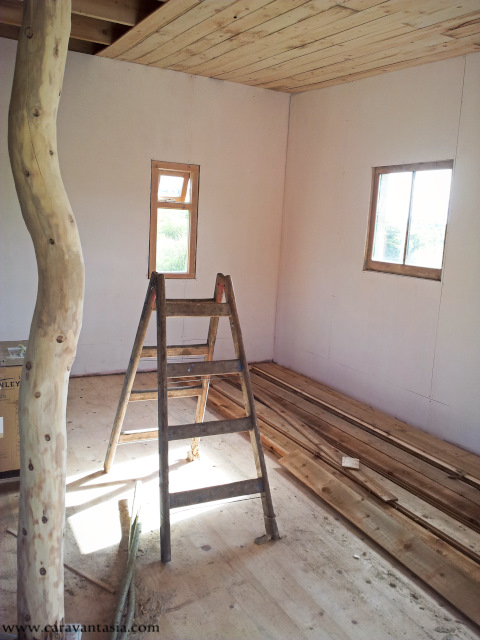 Hazel hand rails around the porch...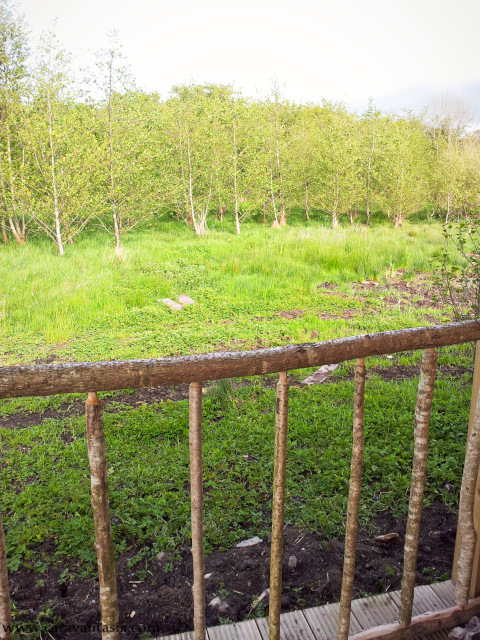 View from the front window.....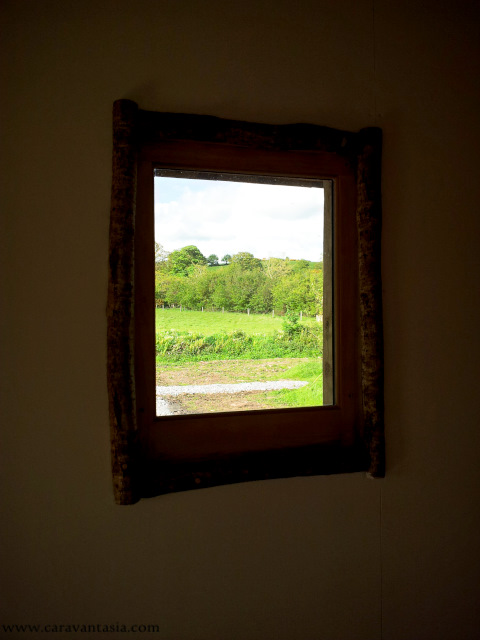 Green seedlings growing on the green roof of the green house...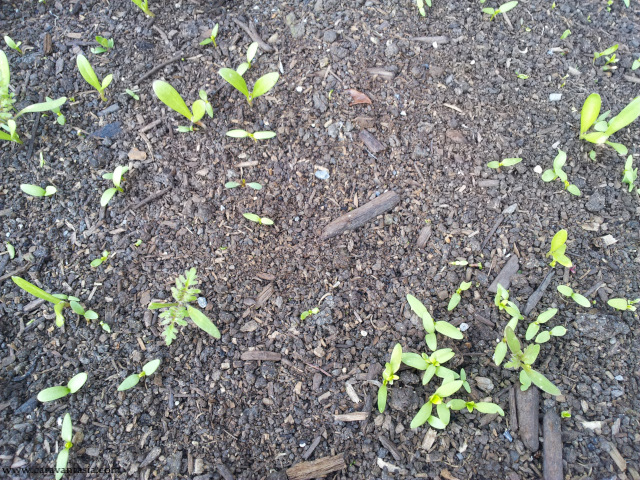 There's been a lot of talk on this blog about progress with the campsite, but what about the caravans? WHERE ARE THE CARVANS, huh?
Well, most of them are residing in our workshop and are in various stages of renovation. Here you go..........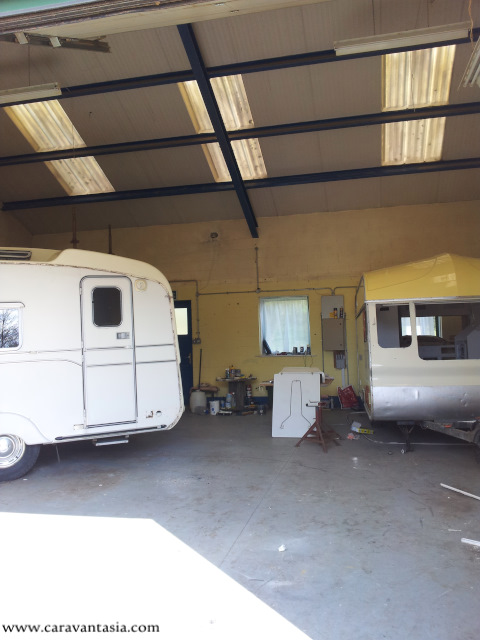 Yesterday we brought the littlest caravan to the Caravantasia site (the one on the right in the pic below) to make some room in the workshop. All of the fixing and painting is finished on this one so she is the first of our rentals to leave the workshop.   You might say that this was the first step in putting the 'caravans' into the Caravantasia... literally.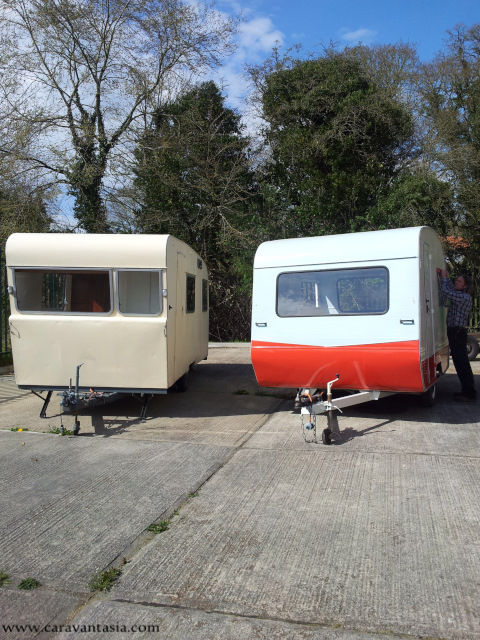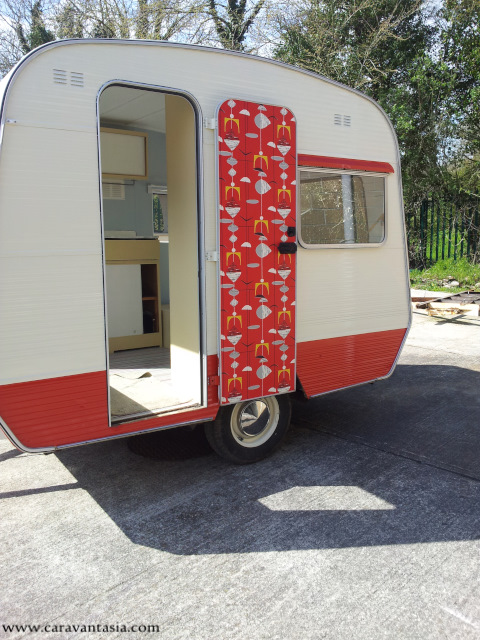 The site is really starting to take shape now - the solar panels, toilets and showers have all been plumbed in and next week the decking is being built for each caravan pitch.  
The best thing is that the trees all have that lovely fuzzy green haze that says that summer is on it's way. Bring it on!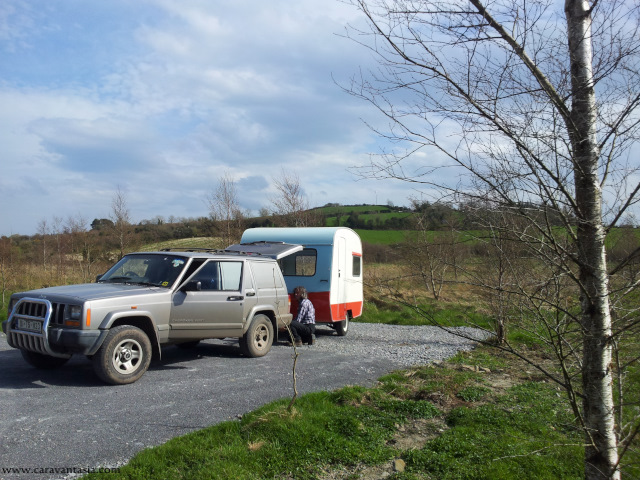 Hello! Would you like to take a peek at the work in progress on our campsite loos? Of course you would!
May I introduce Carvantasia's mens loo…. Ta da! They are not finished, obviously, but they're beginning to start their transformation from boring old garden sheds to posh loos.
Toilet (wall)paper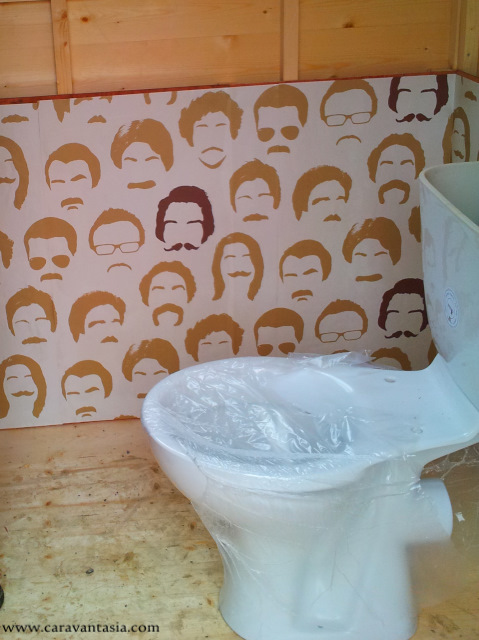 The theme will be a mens barbers shop (loosely) and the wallpaper has a bit of a retro vibe. I definitely see Magnum P.I. in there, plus Burt Reynolds, Walter White (before the hair loss) and Freddie Mercury. I think my husband, Tom, is in there too but he doesn't have a moustache so I'm probably hallucinating due to excessive use of wallpaper paste (Tom, if you're reading this, don't be getting any facial hair-related ideas).
Walter White, what are you doing in my toilet?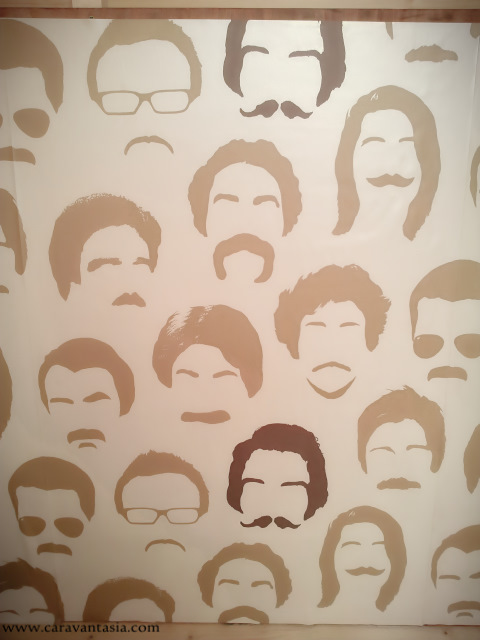 The ladies loo will be a more girlie affair altogether, featuring flamingos. Because… well, why would you not put flamingos in your toilet?
Sneaky pic of Tom for head/wallpaper comparison purposes, plus flamingos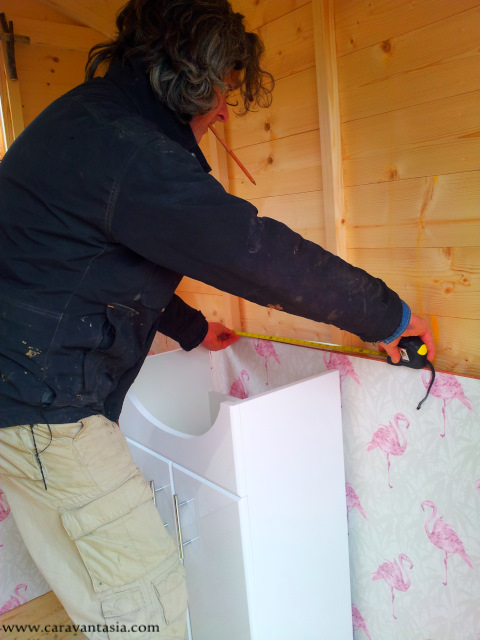 We will also have a separate Ladies loo, shower and washroom and the same for the guys. No themes have been set in stone yet, so if you have any ideas we'd love to hear them!
Skip: "Flamingos?... I HATE flamingos".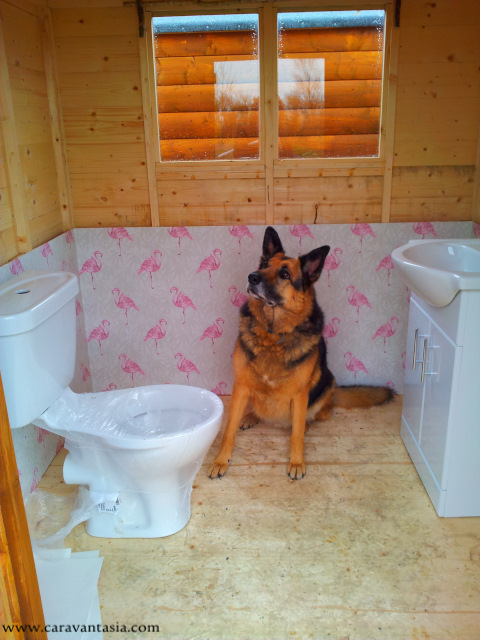 We have a new 'thing' taking shape in Caravantasia. It's a living willow sculpture that we've nick-named "The Fascinator" because it looks like it's got a quirky little pretend hat on it. It has a little entrance in to the middle of it so that people can walk inside it.
The idea is that it will eventually all fuse together as it grows and become..... well, fascinating, of course.  
It's being made by the lovely Hanna from Barnabaun Basketry using willow from our farm. Hanna has carved (woven?) herself a reputuation as an accomplished basket maker and has branched out (sorry) into living willow sculptures. She runs basket making and creative willow courses too.
Hanna, starting the central piece of the 'hat'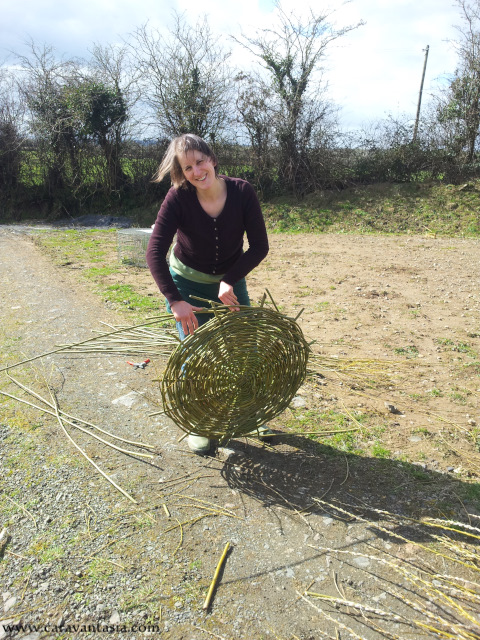 Hanna is a joy to have around. We only met her recently through the Tipperary Green Business Network but feel like we've known her for ages. When she visits, I don't even feel the need to pretend that the house is usually tidier than it is... and that it just looks this way because of some natural disaster.... you know, tornadoes and that sort of thing.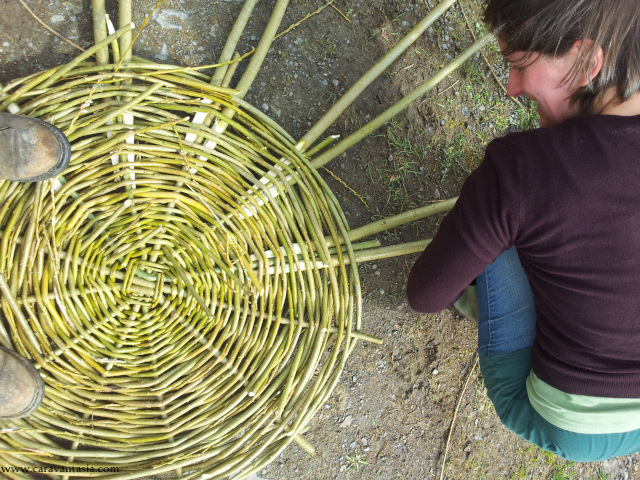 The structure took shape really quickly. Tom helped with some of the willow cutting and acted as Hanna's "beautiful assistant".
Skip the dog helped by trying to pull out each bit of willow to make sure Hannah was doing it properly.
Tom - "Beautiful assistant"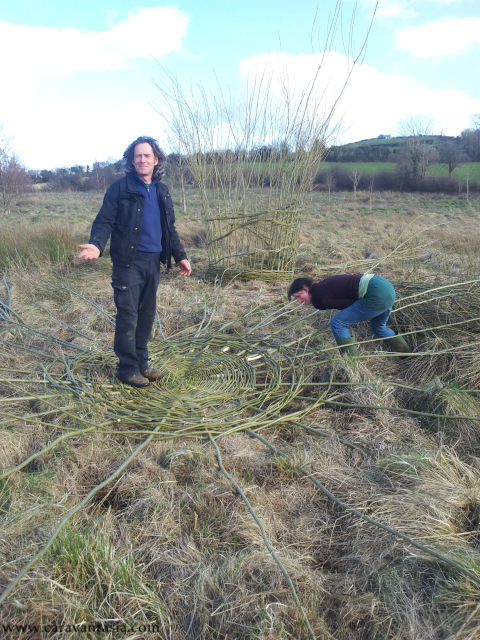 Skip - "Quality Assurance Officer/Security Guard/Pain in the Ass"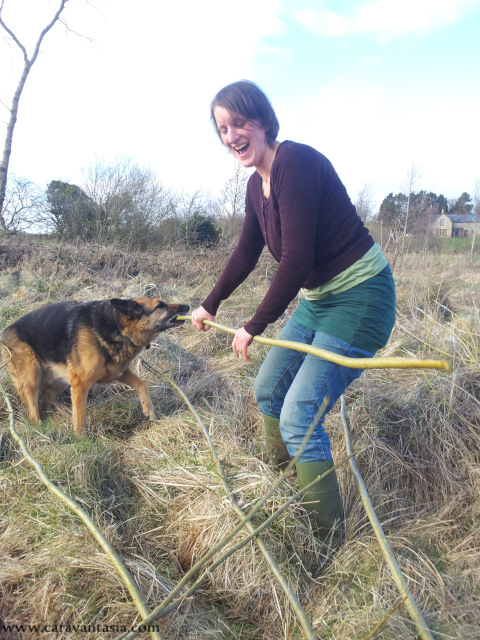 The 'hat' is positioned on the uprights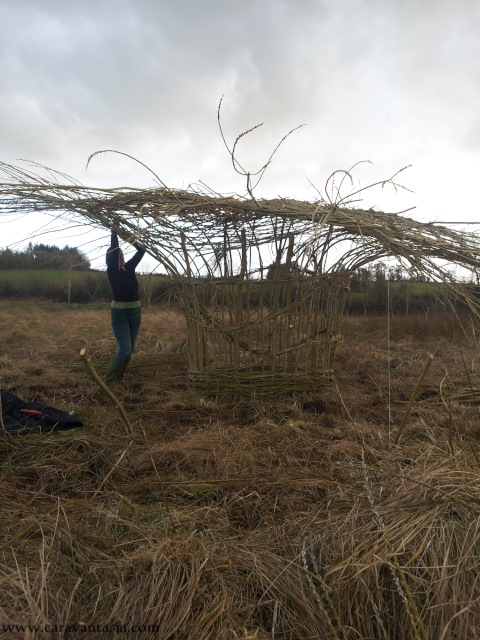 It's looking good isn't it! Will post a few more pics when it's finished in a few weeks time.  It will hopefully have some leaves on it soon too, if spring would ever just hurry up and arrive properly.
/